JUST IN: Court affirms INEC's rejection of Zamfara APC candidates
...Says INEC acted within its powers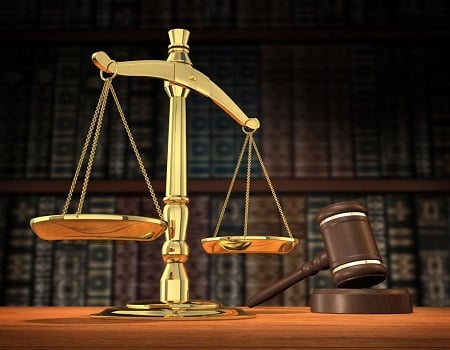 A Federal High Court in Abuja, on Friday, affirmed the decision of the Independent Nation Electoral Commission (INEC) debarring the All Progressives Congress (APC) from fielding candidates in the forthcoming general elections in Zamfara State.
Justice Ijeoma Ojukwu in a judgment she delivered in a suit marked FHC/ABJ/CS/1279/2018, filed in the name of APC by some individuals, who said they emerged from a consensus arrangement adopted by the party in Zamfara state, held that INEC was right to have delisted names of candidates APC presented for the forthcoming elections.
She said INEC's decision was in tandem with the law guiding parties' primaries and added that the electoral body acted within its powers by refusing to accept the list of candidates from APC.
Justice Ijeoma contended that  APC failed to conduct a valid primary election within the period scheduled by the electoral body, adding that, such action from INEC was good for democracy, as it would instil discipline in political parties.
The judge noted that, if consensus candidates are to emerge, there are laid down rules, the constitution of a party, which must be adhered to strictly.
ALSO READ: 2019 Election: Political parties sign peace accord in Bayelsa
She said from the facts of the case before her, "The applicants did not abide by their constitution in submitting names of candidates to INEC", and dismissed the suit for lack of merit.
The APC (faction) had dragged INEC to court, seeking an order to permit its candidates to participate in the forthcoming general elections in the state.
The party, in the suit, further applied for an order of perpetual injunction to restrain INEC from giving effect to the content of a letter with Reg. No. lNEC/SEC/654/1/330 and dated October 9, which foreclosed it from presenting candidates in Zamfara for failing to conduct its primaries within the stipulated time.
Joined in the suit were the governorship aspirant of APC in the state, Senator Garba Marafa and a senatorial aspirant, Alhaji Siraju, as well as seven other chieftains of the party, as defendants in the suit.
The APC, in the suit prayed the court to declare that INEC's letter purporting to exclude the party from presenting and submitting the list of its candidates for the forthcoming election in Zamfara state scheduled for 2019, is null, void, ultra vires and of no effect having regards to the provisions of sections 31(1) and 86(2), (3) and (4) of the Electoral Act 2010 (as amended).
"A declaration that by virtue of section 36(1) of the 1999 Constitution of the Federal Republic of Nigeria (as amended) and section 31(1) of the Electoral Act (as amended), the defendant lacks the power to refuse to collect the name of the plaintiff's candidates for Zamfara state presented and to be submitted to it not later than 60 days before the election scheduled for February 2019."