Constituency projects: Go and ask your ministers, PDP senators tell Buhari
• Say President misled by speech writers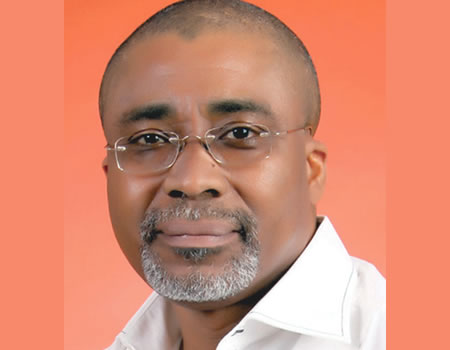 The People's Democratic Party (PDP) Senate Caucus, on Wednesday, disagreed with President Muhammadu Buhari over comments attributed to him on Constituency Projects.
Buhari at a national summit on Tuesday, "Diminishing Corruption in the Public Service," organised by the Independent Corrupt Practices Offences Commission, (ICPC) accused the federal lawmakers of having appropriated N1 trillion in the last 10 years without corresponding impact on the lives of the people.
But at a press briefing yesterday, Senate Minority Leader, Eyinnaya Abaribe said they were not bothered by the accusation.
Flanked by Senators Phillip Aduda, Mathew Uroghide and Sahabi Yau, Senator Abaribe said President Buhari must have been misled by his speech writers whom he lamented were ignorant of the fact that Constituency Projects were domiciled in the Executive.
ALSO READ: Reps send journalists out as CBN defends N1.3trn budget estimates
He said:" No, we aren't worried. The reason why we aren't worried is that we know that it was a statement that was erroneous; that somebody must have written a speech and then put false information for President Buhari.
"I have done constituency projects and we have always said that constituency projects aren't done by the senators or members of the House of Representatives. They are domiciled in the Executive who executes it. And so, if the President says that he hasn't seen anything, he should ask his ministers and his agencies under him as the Executive because they are the people who have been executing these projects."
Spokesman of the Senate, Godiya Akwashiki, feigned ignorance of the remarks attributed to President Buhari.
He told newsmen that the Senate would only react when President Buhari, whom he described as the Chief Executive of the country, writes officially to communicate his reservations over management of the Constituency Projects.
He said:" The President is the President of this country. He spoke as Chief Executive but you people ( journalists) sometimes you can be funny. Mr President has not written to the National Assembly officially on this matter. He has a mode of communication and I want to believe if he has anything, he will just write to us, he will."