Buhari holds talks with Trudeau in Addis Ababa
•  Promises adequate resources for research
President Muhammadu Buhari and Canadian Prime Minister, Justin Trudeau, on Sunday, at the margins of the 33rd AU Summit in Addis Ababa, Ethiopia, held talks with the president describing Nigeria-Canada relations as very cordial.
In remarks before the media, the president expressed his desire to further strengthen bilateral ties.
According to a statement issued by the Senior Special Assistant to the President (Media & Publicity), Garba Shehu, President Buhari underscored the warm and friendly relations between Nigeria and Canada, noting commonwealth membership of both nations and the choice of Canada for higher education by Nigerian students.
The statement quoted him as saying: "We have a lot of students in Canada. We are aware of our vital roles to keep the country together. We are eager to expand trade because you are one of the 'biggest customers', of Nigeria's crude oil.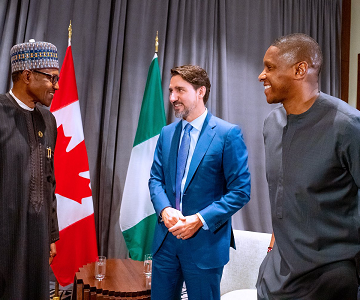 "But the most important and enduring relations with Canada is education."
In his remarks, the Canadian Prime Minister described President Buhari as "a leader in Africa", adding that it was a pleasure to engage on regional and international issues.
ALSO READ: African leaders gather for AU summit, focus on security
"Your leadership and reflection on the current situation challenging Africa but also the potentials and opportunities are something that I am very much looking up to.
"Canada and Nigeria have a long-standing and deep connection and friendship, and I very much look forward to hearing your perspectives on many big issues facing not just Africa but the world," Trudeau said.
President Buhari has also affirmed that Nigeria recognises the centrality of science and technology in the development process and will ensure adequate resource allocation for research and development.
Speaking at a breakfast meeting of the Commission on Science and Technology for Sustainable Development in the South (COMSATS) organised by the President of Ghana, Nana Akufo-Addo in his capacity as Chairperson, President Buhari said technology is aiding Nigeria's advancement in critical sectors of the economy.
He noted that his administration was conscious of the relevance of science and technology in national development and as such has a ministry dedicated to the sector, which is headed by a scientist.
"We are concentrating on encouraging our students, at the primary and post-primary levels, to love and study more of science-related subjects rather than arts, political science and history," the Nigerian leader said at the meeting on the margins of the 33rd AU Summit.
The President acknowledged that while finding resources to fund science and technology-related ventures could be a challenge, Nigeria was aware of the huge benefits and will continue to do her best to ensure adequate resource allocation for research and development.
In his remarks, the Ghanaian President said as an inter-governmental organisation made up of 27 member states, COMSATS was playing a leading role in cultivating an enhanced culture of scientific and technological cooperation among member states.
He said the body was achieving this objective through capacity building, education, research and development.
Contributing to an open discussion at the meeting, Governor Ben Ayade of Cross River State, who is part of the Nigerian President's entourage to Ethiopia, called on the body to structure its operations in a way that creates "centres of excellence" in member states.
Ayade said such centres will help in education, training and research for citizens of participating countries in specific fields and vocations of science and technology.