Bauchi governor-elect, Bala Muhammad gets certificate of return, promises participatory administration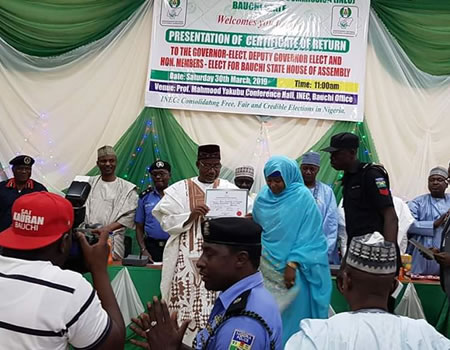 Bauchi State Governor-elect, Senator Bala Muhammad Abdulkadir has been presented with his certificate of return by the independent National  Commission (INEC) with a call not to take the confidence reposed on him by the electorates in the state for granted.
While presenting the certificate of return to the Governor-elect on Saturday at the Yakubu Mahmoud Hall in the INEC headquarters in Bauchi, the National Commissioner supervising Bauchi, Gombe and Yobe States, Baba Shettima Arfo charged the Governor-elect to see his election as an opportunity to serve the people of the state and not members of his party alone.
Shettima Arfo who was assisted by the Bauchi State REC, Ibrahim Abdullahi said that campaigns are over now and the winner should be magnanimous in victory and take everybody along knowing that the essence of democracy is serving the people.
The National Commissioner further advised that it is only when elected officials abide by their campaign promises that democracy can be beneficial to the people pointing out that the government is to work for the people.
In his remarks at the ceremony, the Governor-elect, Bala Muhammad Abdulkadir said that his election was a victory for Bauchi state people, saying it was the result of their collective efforts.
He said that, "Today represents a further confirmation and validation of the collective resolve of Bauchi people as expressed on March 9th, 2019. I am highly delighted that Bauchi state people have spoken with one voice and I am privileged to be the beneficiary of that resolve. I, therefore, commit myself to an all-inclusive, equitable and fair-minded approach to governance by ensuring that we keep to the fulfilment of our campaign promises. There is more to gain as a people in collective efforts than the practising one-party system in the state,"
"As I conclude this short address, I want to specially acknowledge and appreciate leaders of various political parties, INEC and the security agent for the role they played at ensuring that elections were conducted free fair and credible. We will ensure that as a government, we bring Bauchi back from the woods by improving the internally generated revenue of the state as well as all the sectors of the economy. As a government, we will not repeat the mistakes of past governments",  he assured.
Senator Bala Mohammed Abdulkadir who was elected on the platform of the opposition  Peoples Democratic Party and his Deputy, Senator Baba Tela were the first to be presented their certificates of return by the INEC National Commissioner, Baba Shettima Afro.
The 31 members-elect of the Bauchi State House of Assembly who are from the ruling All Progressive Congress (APC), Peoples Democratic Party, (PDP), New Nigeria People Party, (NNPP) were later in the afternoon handed their certificates return by the Bauchi State Resident Electoral Commissioner (REC),  Ibrahim Abdullahi.