Bauchi APC primaries: 3 aspirants alleged vote buying, security intimidation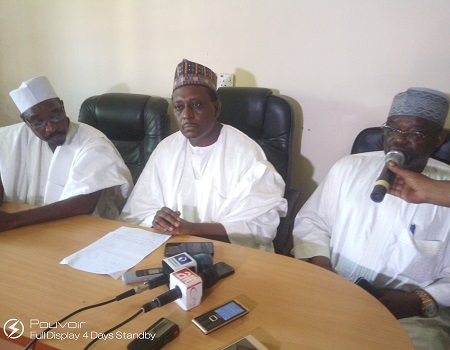 BARELY 24 hours to the conduct of the gubernatorial primaries of the ruling All Progressive Congress (APC) in Bauchi state, three of the aspirants have alleged that money was used to entice members of the party in order to vote for the incumbent Governor, Mohammed Abdullah Abubakar who is also a contestant in the primaries.
Addressing a joint press conference at the NUJ Press Center on Saturday, the trio of Muhammad Ali Pate, Yakubu Ibrahim Lame and Muhammad Bala Jibrin also alleged that security operatives are been used to intimidate and coerce the voters by all means.
They jointly accused the state government of using state funds to buy votes by ensuring that all the card-carrying members of the party were forced to vote against their wishes because according to them, the governor and his government has already lost popularity which was the more reason the national secretariat of the party directed for direct primaries in the state.
ALSO READ:  Party primaries: Politicians urged to play according to rules
The three aspirants also alleged that they have evidence that the sum of N5m was given to each of the party executives at the local government levels for onward transmission to the party members at that level just as they further alleged that their supporters were been harassed and questioned by security operatives for no just cause.
On the 'modus operandi' of the election, they alleged that the officials sent to conduct the exercise have not briefed them, a situation they lamented has left them stranded and without direction just as they said that the issue of consensus among them did not come up because any of them is capable of contesting the office of the Governor.
The three contestants assured that if the direct primaries election was conducted in a free and fair atmosphere, one of them will definitely emerge victorious against the Governor.
All efforts to get reactions to the allegation, both from the party leadership in the state as well as the government proved abortive as all the contacts made declined comments saying that they were busy preparing for the conduct of the exercise.