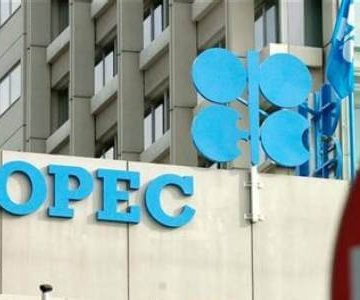 EVEN as legislators commenced preliminary debates on fundamental of 2018 budget appropriation bill, trouble appears looming from external quarters with OPEC insisting on cutting Nigeria's oil production to 1.8 million barrels per day.
The bill is predicated on daily oil production of 2.3 million barrels per day at $45 per barrel.
While prices continue to float above $60 per barrel in the last few months, authorities say production remains just above 2 million barrels per day.
OPEC oil ministers and other producers are due to meet this Thursday in Vienna to discuss extending a deal that has so far reduced crude oil production by 1.8 million barrels per day (bpd) and helped boost oil prices by 40 percent since the middle of the year.
The deal between most OPEC members and other major exporters including Russia is scheduled to expire in March 2018.
Sources familiar with OPEC talks said the group may debate capping Nigerian and Libyan output at 1.8 million bpd and 1 million bpd respectively, having exempted the two countries so far due to unrest and lower-than-normal production volumes.
Russia has signaled it wants to understand better how producers will exit from the cuts as it needs to provide guidance to its private and state energy companies. Luaibi said there had been a little discussion so far on any exit strategy.
Some Russian producers including Rosneft, run by an ally of President Vladimir Putin, Igor Sechin, have questioned the rationale of prolonging the cuts, saying it will lead to a loss of market share to U.S. firms, which are not reducing output.
OPEC, which comprises 14 countries, has traditionally been much less worried about exit strategies as its members have been known for reducing compliance and cheating on their quotas towards the expiry of such deals.
"OPEC and Russia will both realize they are losing market share and they will be better off going back to a more competitive environment," the head of commodity research at Citi, Ed Morse, told Reuters.
Citi's rival Goldman Sachs said in a note on Tuesday: "We continue to expect a gradual ramp-up in OPEC and Russian production from April onward."
OPEC and Russia look set to prolong oil supply cuts until the end of 2018 this week while signaling that they may review the deal when they meet again in June if the market overheats.
With oil prices rallying above $60 per barrel, Russia has questioned the wisdom of extending existing cuts of 1.8 million barrels per day (bpd) until the end of next year as such a move could prompt a spike in U.S. production.
Russia needs much lower oil prices to balance its budget than OPEC's leader Saudi Arabia, which is preparing a stock market listing for national energy champion Aramco next year and would hence benefit from pricier crude.
Six ministers from OPEC and non-OPEC oil producers including Saudi Arabia and Russia will gather in Vienna on Wednesday – one day ahead of a full OPEC meeting – to review recommendations by their delegates.
On Tuesday, a joint OPEC/non-OPEC committee recommended extending cuts until the end of 2018 with an option of reviewing the arrangement at the next OPEC meeting in June, three sources from the Organization of the Petroleum Exporting Countries said.
However, oil prices slipped on Wednesday as doubts set in about Russia's willingness to substantially extend a deal among some of the world's biggest exporters to curb output to help tackle global oversupply and support prices.
Brent crude futures were down 22 cents on the day at $63.39 a barrel by 1147 GMT, while U.S. light crude fell 25 cents to $57.74 a barrel.
Moscow fears that a strong price rally off the back of such a move could give an unsustainable boost to the rouble, one that harms Russian exports.
It could also trigger an increase in U.S. production, which has already been rising significantly and offsetting the OPEC-led cuts to some extent.
A report from the American Petroleum Institute (API) on Tuesday showed a weekly rise in U.S. crude inventories of 1.8 million barrels, confounding expectations for a 2.3 million barrel drop.
"The market had been looking forward to a supportive number due to the pipeline disruption from Canada," said Ole Hansen, senior manager at Saxo Bank. "But nevertheless the overall level of inventory still managed to climb."
A price rise generated by the shutdown of the Keystone pipeline, which supplies Canadian crude to the United States, turned out to be short-lived, with an announcement on Tuesday of a gradual restart to operations.
---
---