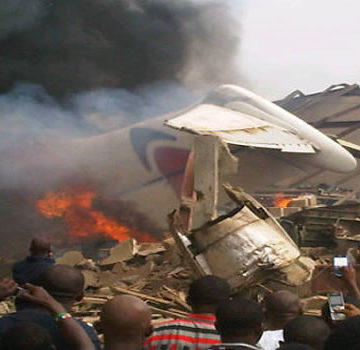 NIGERIA's Accident Investigation Bureau (AIB), has just released the final report of four air crashes which occurred years back.
Releasing the report at the headquarters of AIB some minutes ago, the Commissioner of the Bureau, Engineer Akin Olateru said the reports were for the crashes which took place between 2009, 2013, 2014 and 2015.
The crashes involved a Boeing 737 belonging to Aero Contractors which crashed June 5, 2015, and the crash involving a training aircraft belonging to the Nigerian College of Aviation Technology (NCAT), Zaria.
The other two crashes involved a Bell Helicopter which crashed in Uyo, Akwa Ibom State in October 2009 while the fourth crash involved a Diamond 42 training aircraft belonging to Ilorin Aviation College (IAC), in August 2014.
According to the AIB Commissioner, the release of the latest four reports made it ten of final reports of past crashes already issued by his administration this year alone.