Nigeria one of world's most dangerous places to give birth —Bill Gates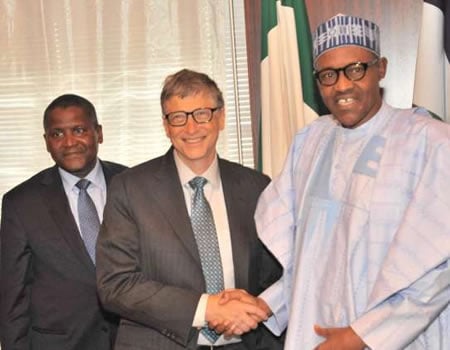 Co-Chair of the Bill and Melinda Gates Foundation, Bill Gates has said that Nigeria is one of the most dangerous places in the world to give birth, with the fourth-worst maternal mortality rate in the world, ahead of only Sierra Leone Central African Republic, and Chad.
He made the assertion at the expended National Economic Council (NEC) on Investment in Human Capital, presided over by Vice President Yemi Osinbajo, at the State House Conference Centre, Presidential Villa, Abuja, on Thursday.
He also announced that his foundation whose largest headquarters in Africa is sited in Nigeria has also committed the sum of $1.6billion in Nigeria with a plan to increase the amount.
"One in three Nigerian children is chronically malnourished. I do not enjoy speaking with you this bluntly when you have been gracious enough to invite me here. But I am applying an important lesson I earned from Alhaji Aliko Dangote.
"Recently, Aliko and I were having a conversation with several governors about their states' official immunization rates. Aliko's way of stressing the importance of accurate data was to tell us, 'I didn't get successful by pretending to sell bags of cement I didn't have.' I took from that that while it may be easier to be polite, it's more important to face facts so that you can make progress.
"On immunization, you are already living that lesson: last year Nigeria revised its immunization coverage numbers downward to reflect more accurate sources, and I applaud you for those lower numbers.
"They may look worse, but they are more real, which is the first step toward saving and improving more lives."
In his response, Osinbajo again blamed the President Goodluck Jonathan's administration for allegedly failing to transform the lives of Nigerians despite making huge money from crude oil.
He reiterated his position that grand corruption prevented investments in healthcare, education and infrastructure, as according to him, the last government shamelessly robbed government policies of most if not all of their intended impact.
He, however, assured that the present administration is determined to change things.
Osinbajo said: "To put Nigeria's money to work for Nigerians, doing the most with the least,  we have stayed true to that vision. Even as oil prices went into free fall, we ramped up investments in infrastructure, as well as our social spending."
According to him, the administration is painfully aware of the issues facing the country and it is prepared to take on headlong, the challenges the Dangote Foundation as well as Bill and Melinda Gates Foundation have outlined, saying: "And we have no choice because the problem literally grows daily."
The Vice President noted that Nigeria has strong economic growth and development ambitions, encapsulated in her Economic Recovery and Growth Plan, launched in 2017.
He noted however that all of those lofty ambitions can only be achieved through the determined application of human skill and effort.
He stated: "And for that effort to be meaningful and productive, it has to come from people who are healthy, educated, and who are, and feel empowered.
"It is this realisation that has helped ensure that one of the primary planks of the ERGP is 'Investing in our people'. And it is for this reason that we are expanding the reach and quality of our healthcare, through the National Health Insurance Scheme (NHIS); and working to guarantee basic education for all persons, whilst also upgrading and modernising the quality of secondary and post-secondary education.
"And because this is the 21st century, we know that it is also important to ensure that our young people are being prepared for the economies of the future, not the past. This means that STEM education is critical and that technology must lie at the heart of every one of our educational offerings."
Osinbajo said the Social Investment Programme (SIP) launched in 2016 is a key component of the Economic Recovery and Growth Plan.
He said the school feeding programme, for example, is "our way of achieving better health, nutritional and educational outcomes for Nigerian children."
"Apart from the health outcomes – children free from malnutrition and stunting – there are also important educational and economic benefits as well. By guaranteeing one hot meal a day to these children the scheme has pushed school enrolment rates upwards in many of the communities in which it is being implemented," he added.
On his part, the Chairman, Dangote Foundation, Aliko Dangote, said in his opening remarks that for Nigeria to truly compete globally, it must prioritize investments in the health, education and opportunity for the people alongside other critical areas like infrastructure.
"Together, these are the inputs that will make Nigeria richer," he stressed.
Gates also observed that the Economic and Recovery and Growth Plan (ERGP) of the present administration does not reflect the needs of Nigerians people even though it identifies "investing in our people" as one of its strategic objectives.
He also announced that his foundation whose largest headquarters in Africa is sited in Nigeria has also committed the sum of $1.6billion in Nigeria with a plan to increase the amount.
Speaking on the need for the development of human capital, the Microsoft founder, said: "The Nigerian government's Economic Recovery and Growth Plan identifies 'investing in our people' as one of three 'strategic objectives.'
"But the 'execution priorities' don't fully reflect people's needs, prioritising physical capital over human capital.
"To anchor the economy over the long term, investments in infrastructure and competitiveness must go hand in hand with investments in people.
"People without roads, ports, and factories can't flourish. And roads, ports, and factories without skilled workers to build and manage them can't sustain an economy."
Gates, who displayed a PowerPoint presentation of a model of the trajectory of Nigeria's economic growth, relating to health and education, observed that if the present trend continues, the country cannot keep up with its population growth.
He added: "If current education and health trends continue-if you spend the same amount in these areas and get the same results-per capita GDP flatlines, with economic growth just barely keeping up with population growth.
"If things get worse, it will decline.
Unfortunately, this scenario is a very real possibility unless you intervene at both the federal and state levels. Because even in the worst-case scenario, your national income level is about to make you ineligible for certain kinds of development assistance and loans that you've been relying on to fund your health system and other priorities.
"Without more and better spent domestic money, investment in your people will decline by default as donor money shrinks-a lose-lose scenario for everyone.
"However, if you commit to getting better results in health and education-if you spend more and more effectively-per capita GDP will stay on its remarkable pre-recession trajectory."
Gates, therefore, advised political leaders to maximize the country's resources which are its people as a way to help the country to thrive.
He stated that Nigeria remains one of the most dangerous places in the world to give birth while one of three Nigeria children is chronically malnourished.
He further said: "The most important choice you can make is to maximize your greatest resource, the Nigerian, people.
"Nigeria will thrive when every Nigerian is able to thrive. If you invest in their health, education, and opportunities- the "human capital" we are talking about today- then they will lay the foundation for sustained prosperity.
"If you don't, however, then it is very important to recognize that there will be a sharp limit on how much the country can grow.
"You see this risk in the data. From the point of view of the quality of life, much of Nigeria still looks like a low-income country.
"Let me give a few examples. In upper-middle-income countries, the average life expectancy is 75 years. In lower-middle-income countries, it's 68. In low-income countries, it's 62. In Nigeria, it is lower still: just 53 years