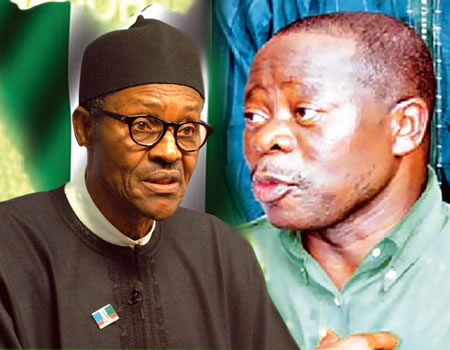 Embattled chairman of the All Progressives Congress (APC), Comrade Adams Oshiomhole, has revealed details of his adventure in the office of the Department of State Security (DSS) and reasons some governors in his party were waging war against him.
Oshiomhole, who spoke with some editors on Saturday, denied being arrested or interrogated by the DSS as reported in a section of the media or that he was pressurised by officials of the security agency to resign as APC chairman.
According to him, what took place inside the DSS office was merely a conversation.
He added that he was not interrogated and was not asked or pressured to resign, accusing the DSS of meddlesomeness, as he said only the Economic and Financial Crimes Commission (EFCC) and Independent Corrupt Practices and other Related Offences Commission (ICPC) are constitutionally empowered to investigate allegation of corruption.
ALSO READ: Leave us alone, face your problems in Kaduna, PDP cautions el-Rufai
Oshiomhole said:  "It was not an arrest or detention. The conversation centred on APC primaries. The question now is whether or not it is the DSS job to interfere in a political party's issues. And if there's an allegation of corruption, it is the responsibility of EFCC and ICPC."
Speaking further, Oshiomhole stated that contrary to insinuations, he was not released on administrative bail, adding that the Kogi State governor, Yahaya Bello, did not come to pick him up from the DSS office.
"I was the one who called Yahaya Bello and he came, but I drove home in my own car," the APC chairman explained, just as he reacted to the call for his arrest made by the Peoples Democratic Party (PDP).
"What would they have said if it was the PDP chairman that was invited by DSS, for instance over the dollar bazaar at their Port Harcourt primary? They would have said democracy is under threat and would have fired a letter to the UN as they often ridicule themselves."
Commenting on his rift with the Ogun and Imo states governor, Amosun and Okorocha, the former Edo governor shed light on his running battle with the duo, saying Amosun's candidate, Adekunle Akinlade, "did not participate in the rescheduled primary that was held on Wednesday by the party."
He added that the party submitted the name of Dapo Abiodun who won the election that was supervised by officials sent by the national body of the APC.
He said whereas the Amosun group went to organise its own primary that produced Akinlade, boycotting the one by the national body, the Ogun State governor participated in the primary organised by the same national body of the party to elect candidates for the National Assembly.
On Okorocha, he alleged that the Imo State governor had turned his state into his personal estate, accusing him of trying to foist himself on the people of the state.
According to him, apart from trying to get his son-in-law to be governor, Okorocha's father-in-law "is a serving minister" in the Buhari cabinet."