Waste management: We'll not tolerate indiscriminate dumping of refuse ― Ogun govt
• To construct 1,300 public toilets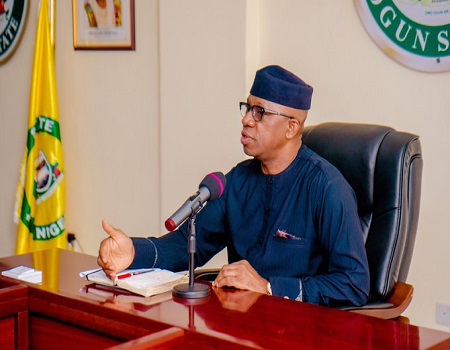 The Ogun State Government has warned residents against indiscriminate disposal of refuse along the medians on major roads across the state.
This warning was handed down by the State Commissioner for Environment, Hon. Abiodun Abudu-Balogun, during a press conference, held in his office, on Monday.
Abudu-Balogun expressed concern over the way and manner residents manage their wastes, saying government through the State Waste Management Authority, is partnering with private investors to collect wastes from house to house.
He explained that the service would be paid for by the people, as soon as the intervention programme embarked on is over.
"The issue of waste management is another hydra-headed challenge we are facing in the State. The problem of waste management is not only peculiar to the state but a global issue.
ALSO READ: APC on course in meeting electorate's aspirations ― Gombe gov declares
"Immediately the Governor was sworn-in, he set up the Ogun State Waste Management Authority (OGWAMA) as the vehicle saddled with the responsibility of waste management in Ogun State.
"We are engaging the private sector to partner with us to bring in their equipment like, waste compactors. Waste management is a money-spinning enterprise all over the world; you evacuate waste and make money. We have already started registering waste managers to help us in the collection of waste.
"It is going to be a money-making venture because the people will pay for their services. It is not going to be free, but the government will start by giving out subventions.
"We have already started evacuating wastes from homes and all illegal dumpsites in the State have shut down. As we are evacuating the illegal dumpsites, we erect our signboards they're to prohibit the dumping of wastes there. We are trying to ensure that the people use only accredited government dumpsites," he added.
The commissioner also highlighted the construction of 1,300 public toilets across the state to address the problem of open defecation.