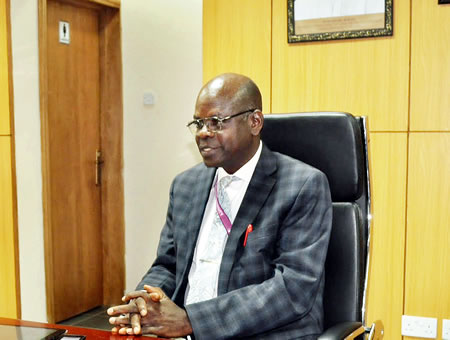 THE roles of teachers have been described as strategic to nation building and therefore should not be left in the hands of quacks.
The vice chancellor of Adekunle Ajasin University, Akungba Akoko, Ondo State, Nigeria, Professor Igbekele Ajibefun, gave the stance, last week, at the Induction ceremony for first degree and post graduate degree graduands of the university to the Teachers Registration Council of Nigeria (TRCN), held at the Nelson Mandela Hall of the university.
Professor Ajibefun said: "The Teacher is the most important factor in the translation of educational ideologies, philosophies, policies and programmes into actions and reality, since national development is predicated on the philosophy of education and the standard of education. Therefore, the role of teachers in national development is very strategic and crucial that it can no longer be left in the hands of quacks and impostors."
ALSO READ: PDP NEC's decisions that may alter the look of 2019
The Vice Chancellor, who congratulated the inductees and their well wishers, commended the Education Faculty for the noble effort of positioning the graduates for excellence.
"This ceremony signposts the fact that the teaching profession is no longer 'all comers' affair,' so, I sincerely commend the Faculty of Education on the noble effort of deliberately positioning our graduates for excellence. It gladdens my heart that graduates of this university have continued to excel in their various fields of endeavour," he stated.
The Registrar, Teachers Registration Council of Nigeria, Professor Olusegun Ajiboye, in his Address, thanked the management of the university for keying into the induction of education graduates into the TRCN which according to him, over the years, has represented best practice internationally.
According to Ajiboye, "It is no mean achievement for an institution to weather the storm of moulding human minds to functional and fruitful ones, more so producing young men and women of high calibre, efficient skills and competent values that meets today's demands. I therefore congratulate the university on this great achievement.
"Today's teachers must not only fit into the knowledge informed demands of the contemporary life, but must be at shoulder level with every other professional groups functioning in the wider context of a knowledge-driven economy.
It is for this reason that professional teacher must embrace radical paradigm shift from the content-and-method model to the broad-knowledge-based model, which incorporates the essential ingredients of professionalism."
Dean, Education Faculty, Professor (Mrs) A.N Duyilemi, urged inductees to always remember that the task of teachers in our schools were now more enormous than ever, urging them to take full advantage of the skills acquired in the course of their training in the university.