U-recycle Initiative commemorates global recycling day with movie screenings across cities in Nigeria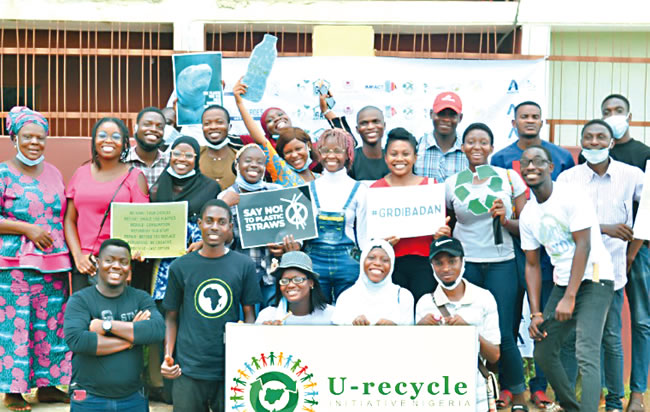 To commemorate Global Recycling Day for the third time in Nigeria, the U-recycle Initiative, with the support of local and international organizations, organized movie screenings at Ibadan, Lagos, Port-Harcourt and Akure in Nigeria.
More than 174 people attended the movie screening across four cities, where they watched a documentary called "BAG IT". The documentary enlightened attendees on the impact of the plastic pollution crisis and practical ways through which they can contribute to solving the problem of plastic pollution. By reducing our plastic footprints, refusing unnecessary problematic single-use plastics and recycling our plastic waste as much as possible, we can mitigate this issue. The documentary also highlighted the key role governments play in addressing this issue.
"Taking into cognizance the impact of plastic pollution on our environment, human health, biodiversity and planet, U-recycle Initiative would like to use this medium to call on the Nigerian government and Ministry of environment to consider instituting more effective policies towards addressing the issue of plastic pollution in Nigeria.
"The government can start by instituting a ban or charge on problematic single-use plastics such as straws, styrofoam food packs/cups, plastic bags etc. By doing so, they would be confronting this menace from its roots. Moreover, this solution has proven effective in an African country — Rwanda. Creating these laws, whilst supporting the creation and expansion of market-based solutions in Nigeria that produce eco-friendly alternatives to single-use plastic, would go a long way in curbing the issue of plastic pollution. Also, more support should be channelled towards enhancing waste management and recycling systems across rural, urban and coastal areas in Nigeria" said Oluwaseyi Moejoh, Cofounder of the U-recycle Initiative.
"We also beckon on plastic production companies like Coca-cola, Nestle and Pepsico to be more accountable to their extended producer's responsibility by ensuring the proper management recovery, repurposing and recycling of waste generated from their products."
Lastly, in its newest virtual campaign, the U-recycle Initiative calls on everyone to take the pledge to #DitchPlasticStraws and reduce their plastic footprints every day.
The movie screenings in commemoration of Global Recycling Day was powered by U-recycle Initiative and supported by Ocean Heroes Network, Impact ToolBox, Aquaworld, iRecycle Initiative, Green and Reap Initiative, Plogging Nigeria, Rotary Club of Port Harcourt Eco, The Extra Step Initiative, REES Africa, Algalita and the Wayfinder Society.
According to a report by WasteAid, dumped and burned rubbish, especially plastic waste, is responsible for the death of one person every 30 seconds in developing countries. Plastic pollution is clogging our waterways causing flooding, killing and injuring wildlife, and endangering human health, yet the excessive generation of plastic waste increases daily. The government, citizens, and plastic production companies play a significant role in mitigating this plastic pollution crisis.
YOU SHOULD NOT MISS THESE HEADLINES FROM NIGERIAN TRIBUNE
Cryptocurrency: Understanding The Craze, Threat
ON Friday, February 6, the Central Bank of Nigeria (CBN) rocked the boat with a circular that inadvertently highlighted how popular cryptocurrency transactions have become among Nigerians in recent years, judging by… 
ICYMI: Yoruba, Hausa Teachers Needed In US
The US Embassy and Consulate in Nigeria has announced that the services of Yoruba and Hausa teachers are needed in the United States. According to the Public Affairs Section of the US Mission Nigeria…
Controversy Over Man Who Jumped From 7th Floor Of 1004 During EFCC Raid
The police in Lagos State have begun investigations into the circumstances surrounding the alleged death of a man at 1004 Estate, Victoria Island, who allegedly jumped from the 7th floor of one of the buildings. The man was…
INEC Lists Five Challenges Ahead Of 2023 Elections
AS politicians step up horse-trading ahead of subsequent elections, the Independent National Electoral Commission (INEC) has listed five main areas of likely challenges…
After Two Years, Daddy Freeze Apologises To Bishop Oyedepo
Daddy Freeze whose real name is Ifedayo Olarinde has apologised to Bishop Oyedepo who is the presiding bishop and founder of Living Faith Church aka Winners Chapel…