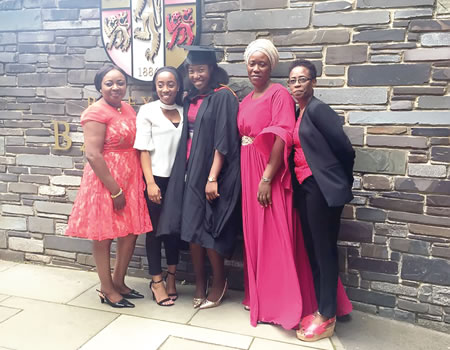 Miss Comfort Tioluwani is the daughter of Rev. Paul and Mrs Favour Tioluwani (Lesekese) of the Bibleway Christian Church International (BCCI). Frustrated by the incessant strikes that prolonged her study at the University of Abuja, Nigeria, where she got her first degree in Law, Comfort 'bailed out' to the United Kingdom for her postgraduate studies at the University of Wales.
She eventually not only passed her LLM examination with distinction; she emerged as the best graduating student. In this interview, she speaks about her experience and achievement.
What does this award mean to you?        
For me, it symbolises the fact that God still answers prayers.
You got a distinction in your LLM examination. Would you say this is a true reflection of your performance in your undergraduate study?
I graduated with a Second Class honours in my first degree.
Tell us a little about your background. What was it like growing up; and how did your background influence your course of study and all?
My parents, Reverend and Mrs Tioluwani, are pastors, and my mother is a lawyer by training. These influenced my upbringing a great deal, as it injected a lot of Christian virtues and sound morals into my life. I am from a family of four and I am the eldest. As the eldest, I had to live a life such that my siblings would be able to look up to academically, spiritually even socially. My family is also into charity and owns an orphanage (which has been in existence for years); and aside from my blood-related siblings, I have other siblings who are from this orphanage, which houses about 100 children.
This has influenced my way of life hugely; it taught me to be considerate in my interaction with others. My parents are involved in everything I do, and they talk me through everything I do. They showed me that prayer and hard work are the answers to everything.
Your mother is a lawyer. Was that why you decided to study Law?
I would say I was influenced by my mother, and that goes way back. I decided to study Law right from when I was in the primary school. I participated in a play called 'The Incorruptible Judge'. I remember putting on my mum's wig and a black gown for my role. Right there and then, I fell in love with the course, and decided that I wanted to study Law. I got my first degree in the University of Abuja.
But why go to the UK for your postgraduate degree? Did you lose faith in the Nigerian school system?
In the first instance, I stayed longer than expected in the university, not because of my academic status but because of strikes; and this, to some extent, affected my belief in the Nigerian education system. That's why I left for the UK.
It's often said that if you can do well here (in Nigeria), you would do even better there (overseas). Did you see this coming – coming top of the class in a UK university?
In all fairness, I never expected that I would graduate with a distinction in an LLM Law, let alone graduate as the best student in Law. I am quite studious, really; but I would attribute my success to God, because nobody receives anything on earth except it be given to him from heaven. I did pray a lot, but I also studied hard. The prayers of my parents also went a long way to make this happen.
Were there things you did differently than other students?
The main thing I know I did differently was that I put God first and made Him my best friend.
So, it was all study? You didn't socialise or get involved in any other activity other than academics?
I was a volunteer student in a charity under the auspices of my church. I was also a member of the Afro-Caribbean society and the Chinese society, amongst others.
I perceive that you're deeply religious; but you still 'studied hard'. Do you believe in miracles?
The greatest miracle a person can present is a testimony. We are in a democracy and people are free to say whatever they want about miracles but Christianity without miracle is incomplete. I grew up in a family and ministry where miracles are the order of the day. I have witnessed mega miracles that cannot be measured and quantified. So, yes, I believe in miracles; and my emergence as the best student in Law is a proof that miracles still happen.
After LLM, what next?                                
My interest is in research. As a result of this, by God's grace, I will like to pursue a doctorate in Law in the UK or in the United States. Also, by God's grace, I see myself working in an international organisation.
What were those challenges you had to face during your study at the University of Wales? And what were your memorable experiences?
I was the youngest in class and my arrival in school was rushed; so, settling down in school was a bit difficult. Everybody reacts to change, and I wasn't an exception. Switching from the Nigerian-style curriculum and teaching to that of the United Kingdom wasn't easy to cope with at first. This generated some degree of fear in me as regards my ability to make an impact in my educational pursuit. But in it all, the Lord took all the glory and I had a success story.
What has this achievement taught you about life, and what advice do you have for upcoming students?
I see this as an opportunity or a platform to encourage upcoming students to be goal-driven, passionate and focused in whatever dream they may have for their lives, knowing that there is no royal road to success. Above all, they should put God first in all they do. The Bible states in Matthew 6:33: 'But seek first the kingdom of God and His righteousness, and all these things will be added unto you'.