She got drunk, broke down our door with a plank after coming home late —Husband
•He's seeking divorce 'cos he wants to marry a new wife —Wife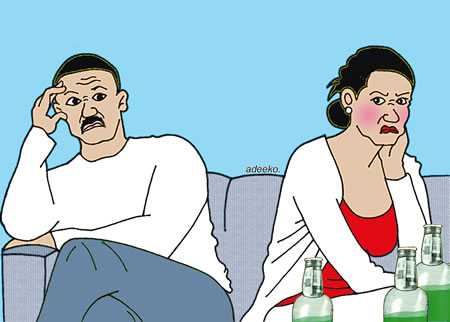 Ile Tuntun Customary Court, Mapo, Ibadan, Oyo State, has ruled that a couple, Sheriff Ishaq and Mariam Ishaq go their different ways.
Sheriff who dragged his wife to court, accused her of living an irresponsible lifestyle.
According to Sheriff Mariam, apart from been uncontrollable, was adulterous and loved to dress in a provocative manner.
He added that she was always drinking herself to stupour and would return home at unholy hours which was displeasing to him.
Sheriff told the court he was fed up with his wife and pleaded that their union be dissolved.
Mariam did not accent to divorce giving the welfare of their children as her reason.
The defendant explained that the plaintiff consistently shirked his responsibility towards her and their two children, thus making life difficult for them.
Sheriff in his evidence said, "My lord, I have had enough of Mariam's atrocities. I want her out of my house before she kills me.
"Mariam refused that I have a say in the home. She's unruly and challenged my authority in the house.
"She dresses provocatively, exposing all the sensitive parts of her body. The more I tell her that this practice is not dignifying, the worse she becomes.
"My lord, she's decently dressed this morning because she was coming to court.
"My wife, in addition took to drinking, she can drink a barrel of alcohol in a day if given the chance.
"Mariam is a common face at joints. She visits these joints with her lovers and will return home at unholy hours, thereby disturbing our neighbours who were already in bed.
"I stay awake almost every night so as to open the door for her which is displeasing to me.
"I have threatened to lock her out on some occasions but she always calls off my bluff.
"My lord, I got tired of her behaviour one day and refused to open the door for her.
"To my chagrin, Mariam went for a plank and hit it on the door. She did this repeatedly thus causing fear in our neighbours and the neighbourhood who took her for an armed robber.
"She succeeded in breaking the door open and started shouting and cursing me.  She boasted that nobody could send her packing.
"My lord, I tried to control myself that night because I knew if I was to react the way I felt, I would likely commit murder.
"I took some of my belongings and left the house for her after this.
"My lord, I came to court so that it could bail me out of this mess," Sheriff concluded.
Mariam, testifying, said, "My lord, I beg this court not to stop our marriage.
"I'm pleading against my husband's request because of our children. They are still young and I don't want them to suffer. They need the attention of both parents to live a balanced life.
"Sheriff stopped carrying out his responsibility towards me and our children after we moved to the house he built.
"We always fight because of food. He hardly gives us money for food and always turns a deaf ear to my complaints. He would ask me to pack out of the house so that he could bring in another woman who was ready to take the stipend he gives.
"My lord, he built our house in a remote area which makes moving around difficult as a result of the high cost of bus fare. He knows this but he's indifferent to our plight.
"Our children and I spend as much as N800 going to school and work, but he will give us just N500, that is if he's giving us anything at all.
"I work hard in order that I may augument what he gives us, but he complains that I stay out late.
"My lord, he lied that I sent him out the house. We are both living there.
"I went to my mother's place the day he complained that I returned home late. I got home around 9:00 p.m because of the delay in getting a public transport home," the defendant explained.
Having heard both parties, the court president, Chief Olasunkanmi Agbaje, stated that more evidence was needed.
Ruling, he adjourned the case till February 24, and ordered both parties to come along with their children and parents.
OULD NOT MISS THESE HEADLINES FROM NIGERIAN TRIBUNE
We Have Not Had Water Supply In Months ― Abeokuta Residents
In spite of the huge investment in the water sector by the government and international organisations, water scarcity has grown to become a perennial nightmare for residents of Abeokuta, the Ogun State capital. This report x-rays the lives and experiences of residents in getting clean, potable and affordable water amidst the surge of COVID-19 cases in the state.
Selfies, video calls and Chinese documentaries: The things you'll meet onboard Lagos-Ibadan train
The Lagos-Ibadan railway was inaugurated recently for a full paid operation by the Nigerian Railway Corporation after about a year of free test-run. Our reporter joined the train to and fro Lagos from Ibadan and tells his experience in this report…
ICYMI: Nigeria Back Into Recession, Worst Since 1987
Nigeria is back into a recession. This time, it is the worst the country has experienced since 1987…
ICYMI: Salami Panel Wants Magu, Other Policemen In EFCC Removed
President Muhammadu Buhari has received the report of the judicial commission of inquiry on the investigation of Ibrahim Magu, the suspended acting chairman of the Economic and Financial Crimes Commission (EFCC), headed by Justice Ayo Salami (retd)… | police helicopter to Oyo | police helicopter to Oyo | police helicopter to Oyo