Re-establish military command in Garkida, Senate tasks COAS
•Urges NEMA to Immediately assess and provide relief materials to victims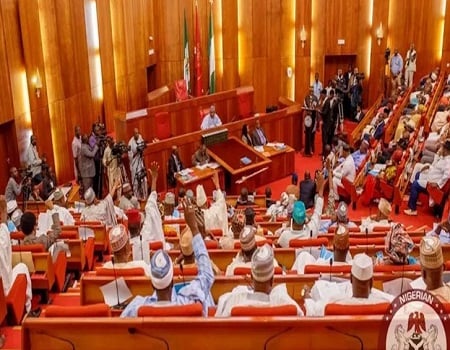 The Senate on Tuesday mandated the Nigerian Army to re-establish a military command base in Garkida town. It said the Army should do the same in all major settlements bordering the Sambisa forest to secure the people and their property.
The security measures it noted should be immediately to secure the people in these areas.
The Senate which made the call to the Chief of Army Staff also called on the North East Development Commission (NEDC) to immediately embark on rehabilitation of public and religious institutions destroyed and provide assistance to other individuals affected.
The resolution was sequel to the motion moved by Senator Aishatu Dahiru Ahmed, Adamawa State on the recent attack on Garkida where churches were burnt down and millions of property destroyed by insurgents who raised the town.
The Senate also urged the National Emergency Management Agency (NEMA) to urgently assess the extent of damage and provide relief materials immediately to the Garkida community affected.
ALSO READ: Ex-NIIA boss, others for CIAPS' public lecture on Brexit
Senator Dahiru in her motion said the Senate was aware that on the 21st February 2020, an insurgent group attacked the people of Garkida, a peaceful town in Gombi LGA of Adamawa Central Senatorial District.
She said the insurgents came in over 7 gun trucks and many motorcycles attacked the town at about 7 pm setting many buildings ablaze.
Senator Dahiru further said that three soldiers were killed in the dastardly attack. Property worth millions of Naira were burnt or destroyed including public hospitals, schools, Telecommunication facilities, Police stations, buses, cars, food stores, private property belonging to the good people of Garkida.
She said that the Garkida crises which have led to the destruction of lives and property were planned by the insurgents to have a religious connotation considering that churches and residences of some prominent indigenes were burnt, an act aimed at destroying the foundation of peaceful co-existence among Garkida community and Adamawa State as a whole.
She said the latest action by the insurgent, called for the urgent need to take more drastic actions in the face of such affront on the national security architecture, the region and indeed the entire nation was long overdue.
She maintained that in view of the enormity of the situation, the federal government needs to put more innovative measures in place to frontally confront these challenges.
It would be recalled that the insurgent attacked Garkida town in Adamawa state in which three soldiers were reportedly killed.