What makes a mountain a place of prayer? What biblical reference supports such practice? What takes place on prayer mountains? RITA OKONOBOH, who visited some prayer mountains recently, gives insight into this.
THE environment was on the outskirts of the business area. As one ascended the stairs that led up the mountain, sounds filtered below and grew louder. The first woman sighted looked up briefly to see who was approaching and focused on what she was doing earlier. She took frequent glances at her Bible as she mumbled words of prayers.
Seconds later, she lay flat on the rock, her face towards the sky. Tears rolled down the side of her face. As she noticed the faint shadow fall upon her figure, she simply closed her eyes and continued her prayers. A little distance away, another woman was on her knees, praying, while a little boy was asleep beside her. Not too far away, a prayer session was in progress, with members gathered round the leader and singing worship songs, albeit in low tunes. A man was gathering up some drums, moving them into a house situated on top of the mountain. That was Ori Oke Aanu, located in Oyo State.
At Ori Oke Baba Abiye, located at Ede, Osun State, founded in the 1940s by Prophet Samson Akande of the Christ Apostolic Church (CAC), the rules are strict and very clear. Women are kept separate from men; no staying on the mountain beyond seven days at a stretch; no indiscriminate eating; no fooling around with the opposite sex, among others.
In July 2015, a prayer city was inaugurated by the Redeemed Christian Church of God (RCCG) at Ifewara, Osun State, named Mount Carmel Prayer Village. Interestingly, Ifewara is the hometown of the General Overseer of the RCCG, Pastor E.A. Adeboye. The prayer village is said to contain chalets and prayer huts which people can stay in to communicate with God.
Prayer mountains, popularised by first generation indigenous churches, abound across Nigeria. A visit round some states of the South West revealed names such as Ori Oke Aluyo located at Afijio Local Government Area, Oyo State; Ori Oke Ikoyi, Osun State; Ori Oke Agbara Aseyori, Osun State, Akoko Mi To Prayer Mountain, Osun State; Baba Shiloh Prayer Mountain, Ibadan-Ife Expressway, Oyo State; Ori Oke Irapada Oluwa, Ibadan-Ife Expressway, Oyo State; Ori Oke Atunse, Ibadan-Ife Expressway, Egbeda, Oyo State; Rehoboth Prayer Mountain, Ajegunle, Ogun State; Ancient of Days Prayer Mountain, Abeokuta, Ogun State, Erio Prayer Mountain in Ekiti State, among others.
Biblical injunctions for prayer mountains
According to Reverend James Akinadewo of Motailatu Church of God, Lagos District Headquarters, Okeira, Ogba, Lagos State, "Prayer is communication between you and God. People go to prayer mountains to avoid distraction. It is like being alone with God. Jesus Christ took three of his disciples to the mountain during the transfiguration and he taught and prayed with them there. In the Bible as well, Moses communicated with God on the mountain where he received the Ten Commandments."
Prophet Moses Aladeolu, Founder, CAC, Ori-Oke Aanu, also supports Reverend Akinadewo's notion of the example of Moses, stating that "the practice of praying on mountains has its origin in the Bible, and offers many spiritual benefits for those who understand the importance."
Praying on mountains helps a person focus, unlike what obtains when there is a crowd.
Also speaking with TribuneChurch, Prelate, Methodist Church Nigeria, Most Reverend S.C.K. Uche, who spoke on the peculiarities of prayer mountains and why Methodists may not practice such, stated that "The prayer of faith affects most when praying, but that is not to say that mountains are useless. If you want serenity or calmness, if you want a place that is very quiet, you can go to any mountain to pray. It does not mean that if one is a sinner and you go to a mountain God will not answer. What matters most is the heart from which you pray. If one prays to God anywhere with a clean heart and with strong faith, the prayer will be heard."
Their peculiarities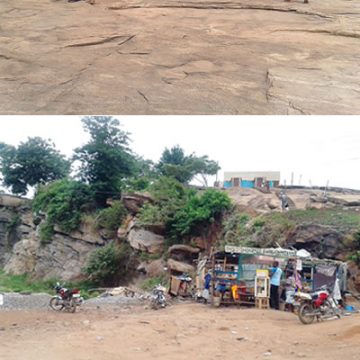 According to some clerics and worshippers who spoke with TribuneChurch, prayer mountains are open to all people, depending, however, on what the rules of the mountain specify. According to Prophet Michael Olubode of Divine Prophetic Ministry, "the Lord gives us freedom to pray anywhere, whether on the mountain, inside your house, while bathing, eating, on your bed, anywhere. Prayer mountains could be said to be special because of the inspiration people draw from such environments.
"When the Celestial Church of Christ started, they were known for praying on beaches. However, the CAC and some other denominations are known for going to prayer mountains. If you know you can get inspired there, why not? There are three issues that make a prayer mountain peculiar. Firstly, since the prayer mountain is not a church, it is expected that the place should have a leader. Secondly, there should be rules that will guide the activities that take place there. Also, the prayer mountain should be multi-denominational, that is, open to people of many denominations."
Also speaking on the activities that occur on prayer mountains, a cleric of the CAC, Pastor Olu Makinwa, said: "People have testified to the miracles they have received as a result of spending time on the prayer mountains. All CAC prayer mountains welcome everybody, irrespective of denomination or religion, provided the individual is ready to follow the CAC rules, which include no burning of candles; no bathing of anybody on the mountain; no laying with your spouse on the mountain. It is also against the rules to pay for prayers on the mountain."
At one of the mountains visited, cars of various tastes were parked along the foot of the mountain. There was a security guard at a makeshift shelter, at the entrance to the mountain who inquired from new faces what their business at the mountain was.
Prayer mountains, contrary to assumptions, are not all gloom. Business activities also take place, such as sale of cooked food, snacks, bread, sweets, among others. However, these activities are restricted to outside the premises of the holy ground, according to Pastor Makinwa.
"In recent times, more prayer mountains are springing up. In fact, on some prayer mountains, all sorts of things find their way into these places. There are stories of prayer mountains where people schedule amorous affairs. You hear of people fixing sexual escapades to take place on prayer mountains.
"A prayer mountain is a place of holiness. The prophet in charge of the mountain must also be genuinely called by God. For example, for those who know the history of Baba Abiye, who founded Ori Oke Baba Abiye, although he was physically challenged regarding his eyesight, from his disposition, one could know that he was genuinely called by God. Only your Bible is the possession allowed on that mountain. In fact, even eating isn't allowed. It is strictly for prayers." he stated
'Even the rich, celebrities visit these prayer mountains'
According to Mrs Tolu Adegbola, one of the worshippers at the mountain, "it is no joke when a person wants to come to the mountain to pray. It helps to free my mind of immediate worries and I go home feeling much better, like my burdens have literarily been lifted. I have received miracles by coming to this mountain and I have brought friends here too who have also testified to God's goodness."
When asked the kind of people she has encountered on the mountain, Mrs Adegbola said that she has seen all kinds of people come to the mountain.
"Far from it that only market women or illiterates and semiliterates visit here. You see that man in white who ascended with you, he is very rich and owns that space bus you see parked there. He has been coming here for some days now. The place accommodates all kinds of people – rich, poor, educated, uneducated. Even students, bankers, celebrities, academics come here. One of my friends who travels out on business also comes when she can to pray for success in her trade. The mountain is open to everyone who is interested, as long as you're willing to follow the rules."
Another lady, who seemed to be in her twenties, simply identified herself as Rachel. According to her, she was a student who had come to pray for success for her NECO examinations and to gain admission into the university this year.
Mr Ayomide, as he identified himself, stated that he played the drums during the worship sessions on the mountain. When asked why he was at the mountain on a weekday, when he could have been at work, Mr Ayomide said he recently lost his job.
"I had expected to be promoted but unfortunately, I lost my job instead. This happened just a few weeks ago. My coming here is to find some sort of peace within myself because I don't like the evil thoughts that are threatening to take over my mind whenever I'm at home. I'm praying seriously for a miracle soon and I believe deeply that my testimony is just around the corner," Ayomide stated.
Necessary preparations for a first-time visitor
Noting the requirements for a person to visit the prayer mountain, according to Reverend Akinadewo, "the person must be prepared. You must be holy and sanctified. The Bible states in Psalm 24:3-4 thus: 'Who shall ascend into the hill of the Lord? Or who shall stand in his holy place? He that hath clean hands, and a pure heart; who hath not lifted up his soul unto vanity, nor sworn deceitfully.' The body is the temple of God and thus for a person to ascend the mountain you must be free of sin. You must be one with God in body and in spirit. You are climbing a place that is higher than things of the flesh and earthly thoughts. And for those who believe, God will bless them with his abundance. Just like God told Moses in the story of the burning bush, the mountain is holy."
What makes a mountain holy?
Prayer mountains are places people can go to remove themselves from others so that they can concentrate on their communication with God and experience His grace without distraction. According to Pastor Makinwa, "Even with the fact that all sorts of oddities take place on these mountains, we still have genuine prayer mountains. It is important to find out the background of the founder of such prayer mountain. The spirit of God directs a cleric to the mountain to become a special place for prayer. After prayers and fasting, the place is also sanctified with prayers, so that people who seek God in such places can have their prayers answered. After such, that place has become a holy ground. At Ori Oke Baba Abiye, for instance, women are kept separate from men to discourage distraction. Besides, a person is not allowed to stay beyond seven days. This is to discourage men or women abandoning their duties at home under the guise of being on the mountain."
Reverend Akinadewo also supports the above statement, noting that "what takes place is that when the mountain is discovered, prayers are said on the mountain and the place is blessed and the place remains holy."
Prayer mountains, not only provide a good environment for spiritual communication, they have also helped to boost religious unity, going by their multi-religious nature. Prayer mountains offer spiritual sanctuary for their occupants and provide an almost direct link with God in the spirit. However, with the many reports that have dotted the media space of various oddities that take place there, it is important for clerics in charge of these mountains to enforce such rules that discourage distraction, immorality, proliferation of vices and illegal profiteering, whether in cash or in kind, by virtue of these mountains of prayer.