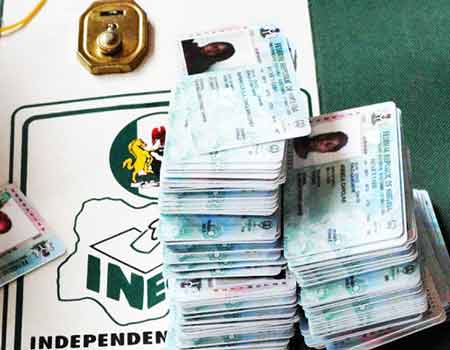 IN less than 10 days to the September 22 governorship election in Osun State,the Conference of Nigeria Political Parties (CNPP) said it has uncovered alleged plans by the Independent National Electoral Commission (INEC) to hand over the over 400,000 uncollected Permanent Voters Cards (PVC) to the ruling All Progressives Congress (APC) in the state.
Also, the CNPP said the information presently at its disposal had revealed that "there are plans by the commission to engage the services of fake members for the National Youth Service Corps (NYSC) in Osun State as electoral officers for the governorship polls."
Raising the alarm on Tuesday through a release signed by a representative of CNPP in Osun State, Mr Kolawole Agunbiade, the body said it had uncovered an alleged fresh "clandestine ploy by INEC to ensure that all the uncollected PVCs in Osun State are made available for the APC and their Lagos cronies already in some parts of the state to vote during the governorship election.
ALSO READ: Before Ajimobi decides on successor
It alleged that plans were already concluded to distribute the said voter cards to their agents from Lagos to vote in various polling units across Osun State.
The CNPP said it feared that "the alleged plot by the INEC is capable of frustrating all efforts by the people of Osun State and the stakeholders towards having a free, fair, credible and violent free election in Osun State come September, 22."
"It is unfortunate that as all hands are on deck towards having a free, fair, credible, violent free and generally acceptable governorship election in our dear Osun State on September, 22, this year, which is now few days to come that the umpire could be thinking of an alleged move to thwart the expectations of the people of Osun State in having a successful poll. We are hereby tasking all the people of Osun state and the concerned stakeholders to call on the INEC to stay away from any act capable of having negative effect on the election," CNPP said
It, however, cautioned INEC on the alleged plan to engage the services of fake NYSC as polling officers, saying, "those planning such evil should have a rethink as the people of Osun State would stand against any act of electoral fraud and malpractice before, during and after the September, 22 governorship election in and across Osun State."
It also said, "in view of the alleged plans, we are urging the security agencies and the good people of Osun State to be vigilant and nip in the bud the alleged ploy by the INEC and the APC at diverting the over 400,000 uncollected PVCs for an unholy and undemocratic means."