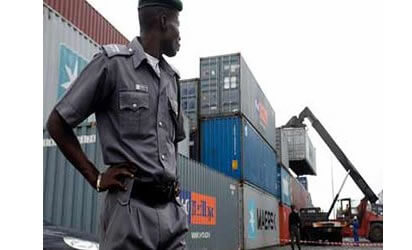 THE diversification drive of the Federal Government is fast gaining momentum as agricultural and manufactured commodities worth N29.146bn were exported out of the country through the Tin-Can Island Port within the first three months of 2018.
This was against the N7.246billion worth of commodities that were exported in the same period of 2017.
Speaking during a press briefing in Lagos recently, the Customs Area Controller of the command, Compt, Musa Baba Abdullahi said the agricultural commodities exported through the command amounted to N22.435bn
in three months
.
He also disclosed that the processed and manufactured goods exported in the same period amounted to N6.711billion.
In his words, "The federal government initiative on export especially the agriculture commodities is yielding a result, for year period under review, January to March 2018.
"The Agricultural produce Exported is 38,517 metric tonnes while the Free On Board (FOB)value of export is N22.435 billion. Also, the FOB value of processed and manufactured goods exported in the same period amounted to N6.711billion while 6945 metric tonnes were generated from manufactured goods export."
The CAC also disclosed that the goods exported include Cashew Nut, Rubber, hibiscus flowers, cocoa butter, sesame seeds, processed wood, frozen shrimps and processed leather.
Others from the manufactured products include empty bottle, biscuit, cigarette, Polyethylene, billets, soap, hair cream and tissue paper.
The CAC also disclosed that containers laden with banned Tramadol drugs were intercepted by the command.
Seized with Tramadol include toxic waste, second-hand clothing and used tyres worth N124million.
He said, "A 1×40 and 1×20 containers of Tramadol Hydrochloride [225mg] which were declared as electrical static converters and ciprofloxacin were intercepted. We are collaborating with NAFDAC and NDLEA on this seizure.
"Also, a 3×40 containers of E-waste Which are considered toxic to the environment was also seized. We are also collaborating with NESREA on this seizure.
"Another 5×40 containers of second-hand clothing consisting of about 1,239 bales of clothing prohibited under the absolute import prohibition list and 1×40 container of used tyres as containing in import prohibition list for trade were also among the items seized."