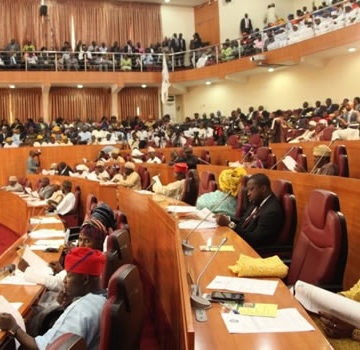 TO address the issue of irregular payment of their salaries, the Oyo House of Assembly has appealed to the State Joint Local Government Account Allocation Committee to make payment of local government staffs first line charge.
The Assembly made this appeal owing to the fact that local government areas in the state only had to make do with leftover after deduction of teachers' salary and other statutory deductions had been made from their allocation.
This is just as the Assembly also called for a review of the mode of distribution of funds to the local governments through a further amendment of the provisions establishing the State Joint Local Government Account (Distribution) Law, 2002.
These positions were advanced following deliberations at Tuesday's plenary of the Assembly on a motion titled, "Passionate Appeal to State Joint Local Government Account Allocation Committee to Prioritize the Payment of Local Government Staff Salary" presented by Chief Whip, Honourable Wasiu Akinmoyede.
Akimoyede in the motion decried a situation where local governments owed five months salaries, and workers had tendencies to reject postings to local government areas like Lagelu with huge arrears of salaries unpaid.
He warned that another effect of irregular payment of salaries in some local governments would be people lobbying to be posted out while local government were unable to embark on meaningful projects.
In her contribution, Honourable Wumi Oladeji of Ogbomoso North Constituency, admonished the executive arm to, like the federal government, give bailout to local governments to clear their salary arrears.
Though he subscribed the need for the state JAAC to making salaries of LG staffs first line charge, Honourable Peter Oyetunji of Surulere/Ogo Oluwa constituency, said it was also imperative for local governments to be made to account for their Internally Generated Revenue (IGR).
Honourable Olusegun Olaleye of Ibadan North II constituency, also agreed to the need for a review of provisions of State JAAC to provide more funding for local governments.
In his submission, Speaker of the Assembly, Honourable Micheal Adeyemo called for attention to the disparity in the engagement of local government staff by the Ministry of Local Government and Chieftaincy Matters the Local Government Service Commission.
In view of Sunday's violence at some areas of Ibadan like Isale-Osi, Popoyemoja, Iyana Asuni, Born Photo and Gege, the Assembly has urged community leaders, traditional areas, landlords in the areas to assist security operatives by not shielding culprits.
An incident described as "one too many", the Assembly Honourable Kehinde Subair of Ibadan South West 1, who brought up the issue as matter of urgent public importance, said security operatives must step up their operations to proffer a lasting solution to the recurring violence in the areas.
Noting the violence that usually follows carnivals in Ibadan, Honourable Wahab Abiodun of Oluyole constituency proposed that the state bans the staging of carnivals.
Contributing, Honourable Fatai Adesina of Ibadan South East II constituency, urged security agencies to be more proactive than reactive in approaching security issues in the state.
The days plenary also saw the passage of the Oyo State Multi door Court House bill into law.