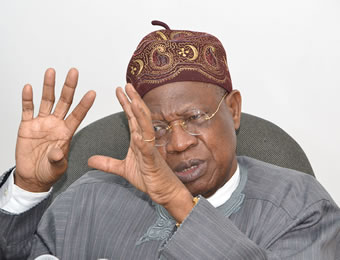 MINISTER of Information and Culture, Alhaji Lai Muhammed, has condemned an alleged attack on the All Progressives Congress (APC) House of Representatives candidate, Alhaji Tunji Olawuyi, for Saturday's by-election for Irepodun/Ekiti/Isin and Oke-Ero federal constituency in Kwara State.
The campaign team of the APC candidate had earlier issued a statement saying that campaign convoy of Olawuyi was attacked by an unknown person during the tour of his constituency to canvass for votes.
Speaking with journalists at APC campaign rally in Omu-Aran on Thursday, the minister described the alleged attack as unfortunate, saying that the party would work with relevant agencies to ensure free, fair and credible election on Saturday with adequate security before, during and after the election.
                        ALSO READ: 2019: Only unity will win elections for Kwara APC ― governorship candidate
He said the election would begin a new chapter for the party, adding that it would be used to show the world that the APC was intact in the state.
"You can see from the enthusiasm and the vibrancy of this crowd. Some governorship rallies cannot match what we have here today.
"No cause for alarm because security is guaranteed, we are aware of an attack on our candidate during his tour of the constituency.
"This shows the opposition's desperate attempt but I challenge them to try it again," Muhammed said.
Speaking earlier, the Chairman of the party in the state, Bashir Bolarinwa, said the APC is very much prepared for the election.
"Our preparations can be attested to by the crowd here today. In our own case, we have not imported anybody, what we have here today is the real electorate.
"We have done all we have to do and we have put in place all necessary apparatus to win the election and we are sure that come Saturday, we are winning," Bolarinwa said.