It is wrong to say marriage slowed me down —Bimbo Adebayo
After taking a break from the movie scene, questions were raised on Bimbo Adebayo's whereabouts with fans alluding to her decision to focus on building a home as the reason. The actress clears the air on the hiatus and discusses her plans for a comeback in this interview with SEGUN ADEBAYO.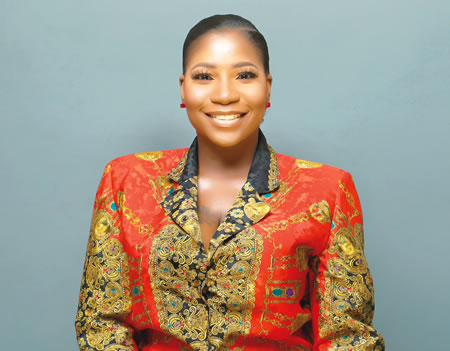 You were a regular face in the movie industry some years back, but suddenly we stopped seeing you in movies. What went wrong?
Yeah, I actually went out of screen for a while because I had an official online thrift business that I was running. It's a female fashionable store and it needed more of my time to grow quickly so as to generate enough profit to sustain my movie business and career.
Turning your back on what you love doing during a time many people were really appreciating your craft must have been very hard. How did you cope with it?
Well, it wasn't an easy decision. It was not easy turning my fans down all the time I was not around, but I never gave up; I didn't stop believing in my dreams. I didn't drop the gloves at the first sign of insecurity. Instead, I welcomed the hardship and I believe it would pass, because my dreams were vital to me. Today, to the glory of God, I am doing well. Right now, I have three movies in post-production and one is going to be released this month. So,it's as if I never went off the radar.
Some said you left to attend to personal issues like marriage and family. Others said you left due to poor fees and lack of structure.  How true were these insinuations?
These are not true.However, there's no such thing as a perfect marriage because it's made of imperfect people. God is the only one who is perfect and having him in the middle of my marriage guarantees perfection in my home. I'm not lacking any fee neither do I lack confidence. I only went to run my race. That's it.
Looking back at the days you didn't appear in movies and seeing some of your colleagues taking over. How did you deal with those moments?
I didn't go out of screen for years. It's just for few months and, of course, everyone deserves promotion in this world. So, if any of my colleagues was at the top of his or her game at that time, why won't I be happy for them? All I know is no one can run my race, and I'm at the point of my accomplishment as we speak. So,congratulations to me now.
Was marriage a distraction for your career at that time?
Not at all. Like I said earlier, I only needed to give my business more time.
How many movies did you produce before you had the break and how hard was it for you to just walk away?
Before the break, I had produced five movies; 'Jenrola', 'Preserved', 'Generation' (which was a 100 per cent English-speaking movie),'Afoyemo', 'Aleebu' and 'Ife Ofege'. Well,going off screen at that time was a well thought out decision. So it wasn't really hard for me. I knew that I couldn't have got the best out of two incompatible situations at that time. Now that I have done my homework and passed in flying colors,I can have rest of mind.
Now that you are staging a comeback, what are your plans to pick up from where you stopped?
I'm setting a goal for what I need to get done, which is my next hit movie!
Do you think this is going to be easy?
Yes, very much easy because while I was away from the screen, I maintained interaction and relationship with my colleagues. As a matter of fact, some of them even supported my business by running free advert for me on their page, which tells you that there's love.
Don't you think you might struggle to tie down your space again?
There's no going to be any struggle.Like I mentioned earlier, I interacted well with some of my colleagues while I was out of screen and we sometimes met at parties.We also have formal and informal ideation. So, it's like I never left.
Talking about acting, what is the most fascinating aspect of the job to you?
The most fascinating thing is that being an actor you can also have your own business which would contribute to the income you rake in. There are also money-making avenues that come from acting, such as endorsements, advertisements and modeling.
You must have had dreams and fantasies while growing up, was acting ever part of your ambitions in life?
I've always have had passion for acting since I was young. I started then by participating in a cultural troupe in my primary school. So, it's a dream come through for me to be an actor who's making movies and well-known in the industry. Acting started professionally for me in 2015 though.That's about five years after attaining my diploma in television production at Wale Adenuga Film Institute (PEFTI).
Is it true that as a young actress, you had to warm producers' bed in order to get roles back then?
I heard that often, but I never experienced such so I can't say anything about it.Maybe I'm one of the lucky ones.
The industry is weird and wide as we see ladies in their bid to outshine their counterparts get involved in all manner of schemings and sharp practices. What's your take on this?
Well, I don't know of any sharp practices they involve in. I can only talk about myself. I hustle a lot to make money. I am a business woman and entrepreneur.
Tell us about your most challenging role and how did you land your first major movie role?
Well, the challenging role I ever took was when I played the role of Jide Kosoko'swife in a movie entitled 'Aiye Keji'. When I got the script, I almost fainted because the first thing that came into my mind was my stature and the experience between us. But I said to God if truly He's the one that gave me talent, He should let me come out in flying colours. I did. My first major movie role was in a TV series entitled 'Ekaa' by Kunle Afod. I did so well that people were even asking me if I had been acting for years.
What should your fans look forward to from you?
I have three projects in post-production as we speak and one of them will be released later this month March, via Libra TV and it's titled 'JibikeAlaseju'. It's a story of a lady who feels the world is painted in only the colour of her attire. It's an educative and entertaining movie that you don't want to miss.