How I met Rudeboy —Lord Sky
Benjamin Idoko, otherwise known as Lord Sky, is a fast-rising music producer stanch to redirect the music industry with his brand. The Benue State-born graduate of Information Technology, Middlesex University, London, in this interview with SEYI SOKOYA, speaks on his vision and qualities of a professional music producer.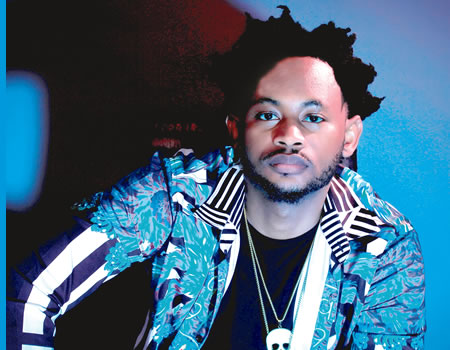 What informed your love for music production?
I'll say it was as a result of my love for making music. I started playing the bongo when I was six years old. I later upgraded to drum set at eight and fell in love with the piano at 10. My mum got me a "sequencer" keyboard, and at some point, I realised I could make beats with it. However, the musical instrument exposed me to another world.
Is there any other thing you would have ventured into apart from music?
I'd probably have been a full-time computer programmer; software developer or an I.T project manager, because that was what I studied in school.
What is your assessment of the industry?
I never imagined the industry would get to the level that it is now. I travel a lot and I have met with a lot of people from all over the world. I realised "Afro beats" as a sound is something that is very appealing to the world in general and it was only a matter of time and exposure for the world to recognise and accept it. That exposure has become easier with social media now.
Of all the songs you have worked on as an established producer, which is your favourite and why?
My favourite is 'Good Looking' by King Josh and Iyanya. It was the first song I did as an established producer, which explains my attachment to it.
What are the factors you put into consideration before accepting to produce a song for an artiste?
I don't consider too many outrageous things before deciding to produce an artiste, because I love creativity. I love the idea of molding what might be muddy clay into a beautiful audible sculpture. I also enjoy helping artistes discover themselves and their comfortable sound. Once terms are met, I'll likely work with anyone who can follow a rhythm. I don't really count anyone out, and I enjoy the challenge.
Do you think music producers are getting the desire attention and rewards for their efforts in this part of the world?
I feel producers are getting the attention they desire. It may not be as much as the artiste, but if the producer wanted all that attention he'll probably be an artiste. Speaking of the rewards for their efforts, that depends on how you brand yourself as a producer and how you uphold the standards of your brand. If you do, you'd get the rewards for your efforts.
How is your experience working with Rudeboy?
He sent me a Direct Message (DM) on Instagram. His humility is next-level. I guess he fell in love with some of my works on Instagram. He informed me it was great and that he liked it, which I made him relalise that I appreciate so much. I later informed him of my intention to do a song for him. He laughed and invited me to his house the next day and it was a success. He loved the way I was able to bring the song ideas in his head to real life sounds. So he calls me when he has songs in his head. And trust me; he wakes up with a lot of songs in his head.
Do you see yourself also replicating the magic of his brother, Peter P-square if he wants you to work with him?
Even though there's a musical split in the P-square duo, I don'have any hard feelings towards Peter. Rudeboy has never spoken ill of Peter whenever we are working or hanging out. He always says good things about him.
Working with him shouldn't be a problem of course, but since it's much more than just business between Rudeboy and I now, I'd want to seek his opinion first.
Do you see a future with P-square back working as duo?
Oh yes, I see a future. Everyone who has loved P-square music sees a future of them back together. That's what we all wish for, but much more than that I'm Wishing it's not a "forced" comeback. Hopefully, the differences that brought about the reason to carry on music individually are thoroughly sorted out. So that it's not just the listeners that are happy, but the duo is also happy and in a great place mentally.
Who is the Nigerian music producer you admired or draw inspiration from?
I admire is Don Jazzy. I like how he was able to brand himself and mold it into diverse brands in the music industry.
Having worked with some of the big names in the Nigerian music industry, what experience has this taught you and what impact has that on your career?
It has opened many doors for me in diversity. The diversity of sound, diversity of ideas. Artistes have different interest, and what you want as a producer might be different from what they want. The ability to bring the best out of different artistes is a major thing to learn. I've worked with Iyanya, Rudeboy obviously, King Josh, Kizz Daniel, Reminisce and Tekno to mention a few.
How do you handle your famale admirers?
It's easy to handle the love from my female fans by giving that love right back to them. As long as it's not the dangerous type. I'm a nice guy.