FG releases N1.248trn for capital projects in 2017 ―Adeosun
Recovers N7.8bn, $378m, £27800 under whistleblower policy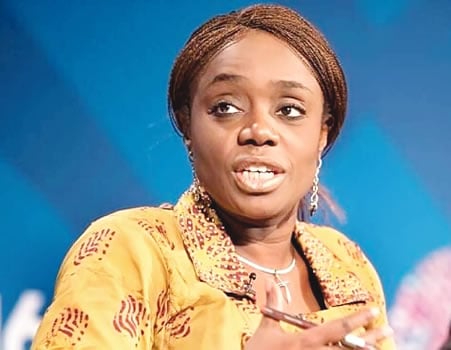 THE Minister of Finance, Kemi Adeosun on Wednesday presented her ministry's scorecard since 2015 to the Federal Executive Council (FEC), revealing that the ministry released a total of N1.248 trillion in 2017 budget for capital projects.
Briefing State House correspondents at the end of the meeting presided over by President Muhammadu Buhari, she expressed the government's commitment to infrastructure development.
Explaining her presentation to FEC, she said: "The final update I gave was the level of capital releases till date from 2017 and l gave details of the big four areas and then others.
"So, Power, Works and Housing got N301.89 billion, Defence 151.2 billion, Agriculture N119.9 billion, Transport N127.9 billion and other areas combined is N545.6 billion.
"So, the total capital budget release for 2017 so far is N1.248 trillion.
"We haven't closed yet. We are confident we will close the year roughly around where we closed last year. We will close around N1.3 trillion mark.
"So, our commitment to infrastructure spending remains very strong. That is what is going to drive the growth of the economy. That is what is going to drive jobs."
The minister also revealed that the sums of N7.8 billion, $378 million, and £27,800 pounds were recovered through whistleblower policy of the federal government whose implementation began last year.
According to her, the federal government intends to institutionalise the policy in order to properly handle its increasing magnitude.
She said there were many reports but very few personnel to deal with the issues.
Adeosun added: "I gave an update on whistleblowing policy which was another memorandum approved by FEC ― the number of tips we have had, the number of investigations we have dealt with, the types of monies that have been recovered through the whistleblower policy.
"I also reported that the whistleblower team has recently come back from a trip to the UK. The United Kingdom government was giving us pieces of training on whistleblowing, how we should institutionalise it. The team spent some time with revenue office in UK. They spent some time in customs office and they took them through what they have been able to do.
"I will be bringing the memo to the council. One of the things it has achieved is prevention. When they get the tips, they use it to block avenues for leakage. We have had a significant number of tips.
"So, we will be coming back to institutionalise whistleblowing as a structure. It has become a central part of fighting corruption, giving us valuable information. Basically, whistleblowing is here to stay, giving us useful information."
The minister also disclosed that the federal government has saved N68 billion on personnel cost in 2017, bringing the aggregate savings by the government on personnel cost since 2007 to date to N288 billion.
According to her, the savings were funds that would have otherwise gone unaccounted for which, she added, were now free for the Government to fund capital projects.
She said the savings were achieved despite increased in personnel, including the employment of 10,000 by the Nigerian Police.
She confirmed that a total of 511 Ministries, Departments and Agencies (MDAs) had been captured under the Integrated Payroll and Personnel Information System (IPPIS), with a staff count of 607,843.
Adeosun added: "As at 20th March 2018 the number of MDAs on IPPIS Payroll is 469 with 316,158 Staff Count with a gross salary of N43,979,383,997.78 and 42 Police Commands and Formations paid on IPPIS Platform in February 2018 with Staff Count of 291,685 and gross salary of N22,276,669,257.21.
"Staff of Para-Military Agencies (Nigeria Immigration Service, Nigeria Prison Service and Nigeria Security and Civil Defence Corps) enrolled to date is 100,822 for which a trial payroll of N11,456,278,859.00 have been sent for review and update for April 2018 payroll."
She added that the introduction of the IPPIS had resulted in the reduction of ghost workers syndrome, enforcement of compliance with due process on employment of staff in MDAs, and prompt and timely payment of salaries and remittances of third parties payments.
She noted further that the IPPIS had become an assured source of internally generated revenue through payee to States and Federal Government.
The Finance Minister called for adequate funding of the IPPIS project to achieve its lofty objectives and to enable replacement of the obsolete infrastructure.
She also canvassed the need for a legislation to impose sanctions on non-compliance MDAs to achieve speedy and successful service delivery.
"There is need to kit IPPIS stakeholders to overcome challenges for effective and efficient service delivery at all times," Adeosun stated.
Meanwhile, FEC has approved a contract for the procurement and installation of a very high-frequency radio equipment in Kano, Lagos, Abuja, Port Harcourt and 10 other airports worth about N1.1 billion.
According to Minister of State for Aviation, Hadi Sirika, the 10 other airports are Enugu, Calabar, Benin, Jos, Kaduna, Maiduguri, Sokoto, Ilorin.
He explained that the move will significantly improve the radio communication and ensure that the whole country is covered by this radio.
He said: "This radio is needed for communication between pilots and towers and it is an important tool for safety. This is will of course deal with the issue of inadequate radio equipment that we have had in the country earlier than now. It is a very big relief for the country.
"The total sum of the contract N1,147,506,398.98 and the completion period is 20 months."