Empty rivers: Where have all the fishes gone?
MUHAMMAD SABIU writes that from investigations carried out, the quantum of fish species in bodies of water across the North is dwindling fast as a result of unwholesome practices that could wipe out the fish population in the region.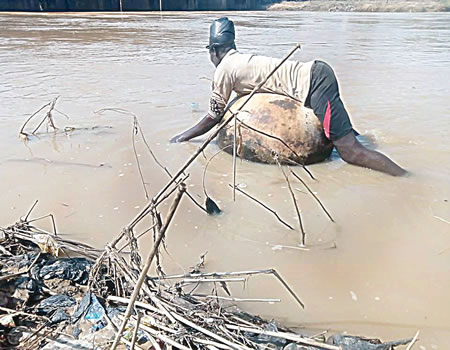 IT has long been the opinion of scientists, environmentalists and marine researchers that Lake Chad one of the largest bodies of water in the northern part of the country has been shrinking at a very fast rate. By extension, the once thriving fishing activities there have shrunk considerably, especially now that Boko Haram terrorists have taken over regions bordering the Lake Chad.
Arewa Live investigations have revealed that approximately 510,000 tons of fish are being produced annually in the country. In addition, the country has about 200 species of fish in inland waters and 72 species of water associated birds. A considerable percentage of these used to be found in water bodies in the north.
However, in spite of this, fishermen in the Northern part of the country are crying out that there is a gradual extinction of fish species in the region, because the situation has degenerated over time. A fish farmer, Mallam Aliyu Muazu, disclosed to Arewa Live that the present scenario can be attributed to an increase in unwholesome human activities like dumping of trash, toxic and other waste materials into gutters and rivers.
According to Muazu, this practice has led to a gradual extinction of fingerlings and other aquatic animals in most of the rivers and streams in Kaduna State as well as the region as a whole.
Some fishermen interviewed by Arewa Live on the bank of River Kaduna, said many species of fish has gone extinct, especially the very common sardine and salmon unlike what the situation was several years back.
Mallam Musa Sani, another fisherman at Kangimi Dam in Kaduna, disclosed that many species of fish had gone extinct, while some are on their way to extinction, blaming human activities for this present state.
Going down the memory lane, Sani recalled that "20 years ago we used to catch different species of fish, but today we can only catch five species. Species like sardines and tilapia used to be here in this river, but gradually they have disappeared. We have been forced to migrate from one river to another in the search of other species of fish for sale."
Sani disclosed further that even frogs and crabs have all disappeared. He called on people to stop dumping wastes into drainage channels and rivers to save aquatic animals from going into extinctions.
Another fisherman who pleaded for anonymity appealed to government to monitor activities of industries in the country as improper waste management leads to sicknesses and diseases.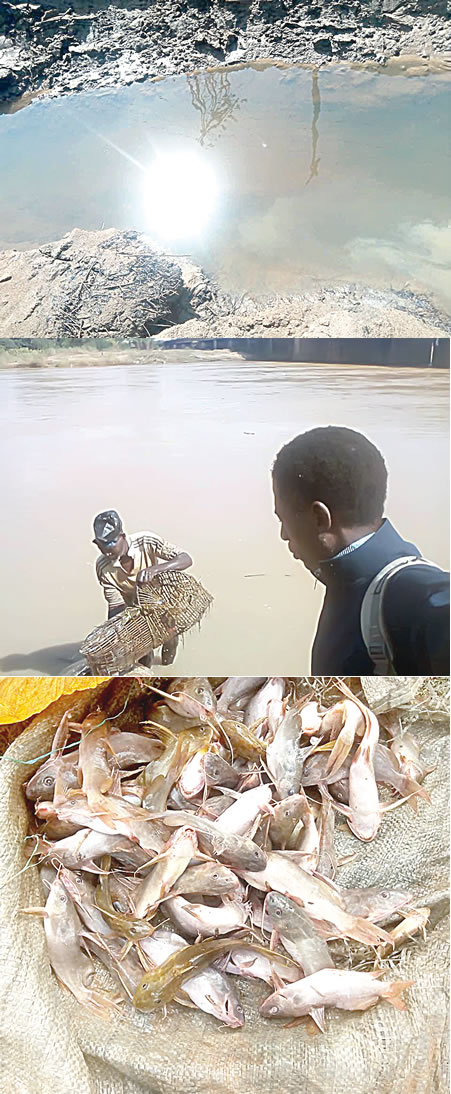 For instance, he disclosed that in Nasarawa and Down quarters communities in Kakuri, Kaduna South Local Government Area, human wastes are carelessly discharged into drainages and subsequently flushed by rain into River Kaduna. Consequently, this had been having major effects as the wastes often poison and kill aquatic animals.
"Today, it is difficult to find even crocodiles along the banks of River Kaduna. It is also very improbable to see other animals like hippopotamus along the banks of the river unlike what used to obtain many years back," he noted.
Worried by this development, most of the fishermen are calling on the federal government to be committed to playing a major role in the global ocean cleanup campaign and develop a mechanism that would curb the use of polythene bags and plastics as these materials constitute poisonous materials to marine life and coastal communities.
When Arewa Live contacted a climatologist, who is also the Assistant Director, African Climate Reporters, Dr Piman Hoffman, to speak on the situation, he noted that the situation is not peculiar to Kaduna River alone. He said when his team took a tour of river banks in Kaduna, Kano, Katsina, Sokoto and Zamfara states recently, it was observed that most fish species were gone.
Hoffman attributed this development to indiscriminate dumping of chemicals, wastes and human activities. According to him, humans have introduced significant number of chemicals into the environment which are very harmful to marine animals.
He said while some chemicals are designed to get rid of weeds and pests, a significant amount of chemicals are waste from industrial and agricultural processes; and they end up in rivers, lakes and other bodies of water.
"The improper handling of chemical wastes is found in oceans and world's water supply is being treated like sewage or toxic waste dumps," he noted. To this end, he expressed sadness over the attitude of companies who dumped chemicals into water sources without recourse to what the consequences may be.
He explained that any time chemical waste is released, it goes into the atmosphere and pollute the water. As it rains, the chemicals are washed into rivers, which in turn feed the waterfalls and then go into the ocean.
He added that climate change and human activities have caused the extinction of many aquatic species and many are still going into extinction due to continuous dumping of hazardous waste.
"We dump everything in the oceans, including plastic bags and other plastic debris, garbage, and toxic chemicals, crude oil, sewage and nuclear wastes. We kill thousands of aquatic animals daily without knowing the consequences, hence, the need to halt this ugly attitude.
"There has been an increasing concern about the environment in which man lives. Solid wastes, mountains of rubbish, garbage and sewage are being produced everyday in urban centres.
"It must be noted that some components of these wastes including food, paper, metals, polythene bags, zinc and lead-containing materials among others, consume oxygen thereby changing the redox potential of the liquid present," he said.
Dr Hoffman opined that when people dump chemicals into gutters, they are actually dumping them into the creeks! Besides being illegal, he said, it is also an anti-social activity, deadly to both fish and other marine animals including creek dwellers.
He explained further that oil and other chemicals also pose a threat to our drinking water supply. In stream beds these chemicals can find their way through porous soils into deep drinking water aquifers and pollute them.
The hazardous wastes, he said, are poisonous by products of manufacturing, farming, city septic systems, construction and automotive garages, laboratories, hospitals, and other industries.
"The waste may be liquid, solid, or sludge and contain chemicals, heavy metals, radiation, dangerous pathogens, or other toxins. Even households generate hazardous waste from items such as batteries, used computer equipment, and leftover paints or pesticides.
"When a toxic waste harms one organism, it can end up destroying an entire food chain of aquatic life. Improperly disposed chemicals pollute marine life and kills sea mammals, corals, and fish, crabs, seabirds and other creatures living in water," he added.
An environment reporter, Ibrahima Yakubu who spoke with Arewa Live on the issue also condemned dumping of poisonous materials into water. He said: 'as a people, we don't have good waste disposal culture. This is very unpleasant and unhealthy.
He revealed that Lagos State alone generates 13,000 tons of wastes daily, and most of these wastes end up in the rivers, streams and lagoons. He said further that government should come up with a good plan to combat the problem; otherwise Nigerians may wake up to discover that all the fish species had gone into extinction.