Elections and fingers of controversy
OLAMIDE ENIOLA writes that just days to the presidential and National Assembly election, many voters apparently got confused about the signals coming from the Independent National Electoral Commission about using other fingers for voting as against the thumb which most voters are used to, noting that the electoral body did not do enough voter education in this regard.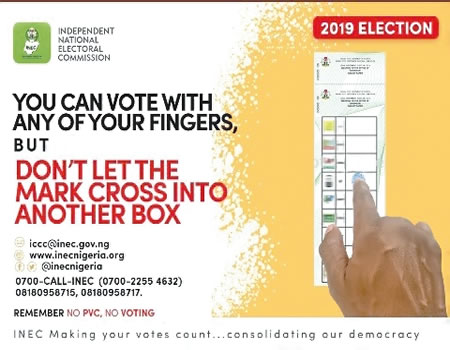 THE 2019 general election is probably the biggest and the most anticipated event in Nigeria this year. However, many members of the electorate might have ended up voting wrongly yesterday for many reasons had the election taken place. Often referred to as voter apathy, those who had made up their minds not vote at all belong to a group who believe that their votes would not count or that it would not change anything since they believe that all politicians and political parties are the same. There are also potential voters who believe that they have not felt the impact of governance one way or the other and so voting for a particular candidate or the other would not make a difference in their lives.
However, it emerged just before the election was postponed that the Independent National Electoral Commission came up with the idea that voters would not use their thumbs to vote this time round. According to many potential voters, they claimed that INEC was telling voters to use their index finger to vote because the available box for voting had become smaller, due to the large number of political parties listed on the ballot.
This position was underscored by the major political parties – All Progressives Congress and Peoples Democratic Party – telling their supporters in the South-West that they should vote with their ika ilabe (the finger used in licking stew). This, to many potential voters, was a diversion from the usual practice of thumb printing ballot papers in the process of voting.
It also emerged later that INEC was of the opinion that voters could use any finger since all were captured in the process of registration of voters. Not a few voters became confused at this point, and many others who were not really enthusiastic about voting before could have lost interest altogether.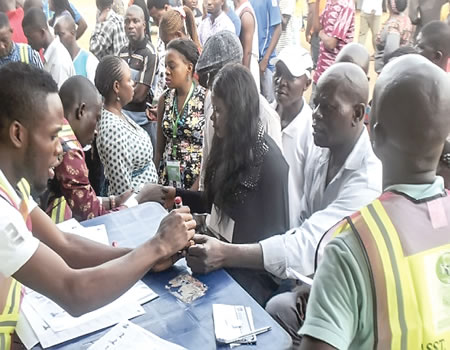 Widespread confusion
From Lafia to Ilorin, Lagos, Ibadan and Abuja, the general consensus of potential voters was that INEC had not done enough to educate voters and that thumb-print was not going to be accepted this time despite INEC's position that using the thumb was still valid.
Muhammad Ahmed, Stephen Joshua and Musa Kasimu Okoyin, all residents of Nasarawa State told Sunday Tribune that they have not heard anything new apart from what they were told in 2015. Nobody had told them, they claimed, that another finger apart from the thumb could be used.
"We were actually taught on how to thump print in one place so that our vote could count. We had series of sensitisation programmes in the past and even now they came to our place and educated us how to vote, we are only waiting for the kick start of the election proper,» Okoyin told SundayTribune, underscoring the idea he was never told about using the index finger.
If Okoyin voted yesterday, using his thumb, there was the possibility of his vote being voided, a trap which many voters could have fallen into.
In contrast, the Nasarawa INEC Resident Electoral Commissioner, Dr. Abdulrahaman Ajidagba Uthman, said the commission has been carrying out series of educational programmes on both radio and television stations in the state, on how to collect their PVCs and vote accurately.
He added that the commission had organised workshops and seminars, meetings with  stakeholders, political parties, observers,  journalists, and civil society groups, and enlightened them on the conduct and processes involved in the 2019 exercise with the view to having a successful hitch free election.
Several potential voters who spoke to Sunday Tribune in Lagos and Ibadan said they were only aware that there was going to be an election yesterday, but the details were not clear to them as they had received little or no voter education.
Some of them, however, said they were aware that there was going to be three boxes, one each for the presidential, Senate and House of Representative elections. They also said they knew the colours that each box would carry.
Tayo Okenzie, an Ibadan resident, for example said: "All I know is that on election day we are to go to vote normally as we used to. No more information has got to me. The thumb is usually used to vote. I am not aware of the change of system."
Victor Odushote, also told Sunday Tribune that "I have not got any information from INEC other than a text message that I should go and collect my PVC." Many other potential voters had very little information from INEC, not even anything on the colours of the ballot boxes.
Adekunle Teniola is angry, not because INEC made some changes to the method of voting per se, but because the time for enlightenment was so short; when INEC could have started the process much longer before now.
"I really don›t think INEC is performing its duties to the fullest in educating the citizenry concerning the election, particularly on the voting procedures, which are now being publicised few days to election. This should have been included in their programmes for a long time, as failure to do so could lead many people to making mistakes while voting. We are not criticising their newly adopted method, but the period of time they started to inform people," he said.
The problem for Gbolahan Rasheed, is worse than it appears. According to him the lapses from INEC could cause problems during the voting process. While commending the INEC for its initiatives, he noted that poor people vote more that the rich, and that failure to educate the poor masses may increase the number of invalid votes.
"The new system INEC brought is a good one, but not everyone understands the voting procedures due to the lack of orientation. And this may pose some difficulties for the electorates.
"During election, 80 to 85 per cent of the votes cast are by the poor, and not the rich. This is a great lapse on the part of INEC," he said.
INEC, others respond
An INEC official in Ibadan, Oyo State, who spoke on condition of anonymity because he was not allowed to speak in official capacity, conceded that there was laxity on the part of the electoral body concerning proper voter sensitisation. He, however, stated that voter education should be a joint task of all stakeholders in the elections, rather than being left to INEC alone.
"INEC has been carrying out sensitisation programmes, but then, I don't think voter education should be left to INEC alone to perform. Every stakeholder in the elections must educate the voters on the dos and don'ts of the elections. Politicians should educate their party members and supporters; the churches and the mosques should educate their congregations; other government agencies, social groups and NGOs alike as well as the media must all work together to get electorates correctly informed," he said.
Speaking on the perceived confusion over the finger to use while voting, the INEC official argued that "any of the fingers could be used as long as voters do not allow the ink on their fingertip to smear another box. More than 90 political parties are contesting, and this has consequently constricted the space for finger printing. It behoves the electorate to decide which of their fingers would fit well inside the space provided in the ballot paper."
When contacted, the Assistant Director of programmes, National Orientation Agency (NOA), Ibadan, Mr Olatunji Gbenga Samuel, highlighted several symposia, and radio and television programmes the body had organised and participated in to educate voters.
"We have been engaging in various forms of sensitisation. We have been on various radio stations – Noble, FRCN just to mention a few. Several print media have equally attended various sensitisation programmes that we have organised. Presently, our director and the media director are on sensitisation assignments, meeting with different segments of the society – market women and others. As part of voter education, we have emphasised that voters can make use of any of their fingers. All the fingers were captured during registration; just that we want to be sure that every used ballot paper is finger printed by voters, and not by palm kernel or any of such.
"We are also working assiduously to debunk fake news. In line with this, we have been working to correct false information about how to fingerprint on ballot papers on election day. We are interacting with people on one-on-one basis and online. NOA is on course," he said.
At the Oyo State Ministry of Information and Culture, Agodi, Ibadan, nothing appeared to show what the ministry had done to educate voters. However, an official of the ministry who chose to remain anonymous because he was not qualified to speak to the press told Sunday Tribune that apart from other sensitisation programmes the ministry had done on the state-owned broadcasting stations, the office of the Directorate of Public and Grassroots Enlightenment also prepared to engage town-criers to educate voters.
Though the presidential election has come and gone, the onus rests on INEC to correct whatever laspse that might have been recorded yesterday before the March 2 governorship and state House of Assembly elections.
—Additional stories by JOSEPH ENNA, TAIWO ADEDEJI and HASSAN BAKRE.