Customers, visitors stranded as FCTA workers commence three-day warning strike
• Call for immediate removal of Permanent Secretary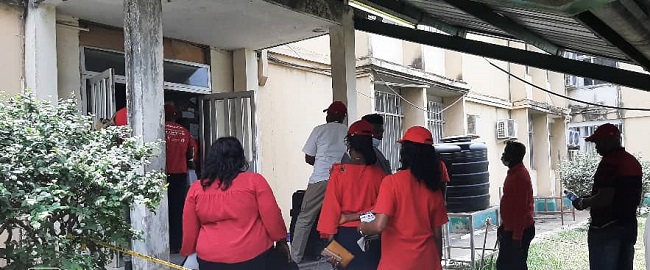 Workers under the aegis of Joint Unions Action Committee (JUAC) in the Federal Capital Territory Administration (FCTA), on Tuesday, commenced a three-day warning strike initiated to press home their demands.
Findings by Tribune Online showed that all government activities, especially in some of the strategic FCTA agencies in the territory, were crippled by the angry workers, as customers and visitors were stranded.
The agencies, according to the Tribune Online investigations, are the Abuja Environmental Protection Board (AEPB) Department of Development Control (DDC) and Abuja Geographic Information Systems (AGIS).
It was further learnt that school teachers and health workers would join the ongoing strike in no distance time.
The workers accused the FCT Administration of double standards, lamenting that government that claims to be transparent cannot continue to retain a Permanent Secretary deployed from the Office of the Head of the Civil Service of the Federation, against the spirit and intent of FCT Civil Service Commission Act, already signed by President Muhammadu Buhari three years ago.
They alleged that the serving Permanent Secretary, who was deployed from the Office of the Head of the Civil Service of the Federation, is occupying an illegal position because the Act provides for an FCT Head of Service instead.
Commenting on the strike, the JUAC chairman in FCTA and FCDA, Mr Matilukoro Korede, said the administration had ignored the worker's agitation for the implementation of the Act and other issues that border on workers welfare for too long.
He said the strike action is likely to be indefinite until the administration heeds the call to implement the Act.
Mr Korede lamented that refusal to implement the law has a very adverse effect on FCTA workers.
YOU SHOULD NOT MISS THESE HEADLINES FROM NIGERIAN TRIBUNE
COVID-19: Nigeria Recorded 624 New Infections Last Week, Lowest In Over Five Months
Last week, Nigeria recorded 624 new COVID-19 infections which is the lowest the country recorded in five months, Tribune Online analysis shows.
The 624 new cases reported between March 28 and April 3 is a reduction from the 849 recorded the previous week…FCTA workers commence three-day warning strike