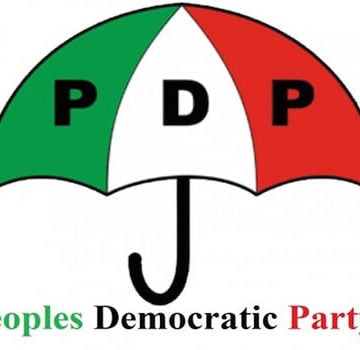 THE Peoples Democratic Party (PDP) on Sunday, rejected as undemocratic and completely unacceptable, President Muhammadu Buhari's comment that security agencies will deal decisively with any persons or group that dares to criticize the handling of security under his administration, saying that it is a plot to emasculate the opposition.
While receiving freed Dapchi school girls last Friday, Buhari had noted: "May I also warn against those elements who have chosen to make the political fortune of our citizens' misfortune. The government would not tolerate any attempt by any person or group to trivialize or politicize security issues for politically motivated ends. Accordingly, security agencies would not hesitate to decisively deal with such unscrupulous characters."
But in a statement issued by Kola Ologbondiyan, National Publicity Secretary of the party in Abuja, the PDP said as a party, after a thorough review of all issues and the fact that nobody apart from the President himself politicized the Dapchi issue when he boasted that his response time was faster than that of former President Goodluck Jonathan, holds that President Buhari's pronouncement on alleged politicization of security issues is targeted at emasculating opposition and those with contrary opinions to the views of the APC interests.
It argued that the President's statement completely betrays a dangerous political intolerance and utter disdain for the rule of law and constitutionally guaranteed freedom of speech and opinion of citizens in a democracy.
The statement added that the PDP is constrained to remind President Buhari that the nation is no longer under the rule of military decrees and tribunals where security agents "deal(t) decisively" with citizens for holding opinions.
It added: "Our dear nation, Nigeria, and her people, has since 1999 chosen a democratic order where there are clear laws guiding expression of opinions.
"Our 1999 Constitution (as amended) also confers the adjudication of any violations in that regard with the courts and not with security operatives.
"Nigerians are aware that the present APC government has become intensely distraught, having been rejected for its misrule, and will not hesitate to deploy every available means to inject fear into the citizen and prevent them from freely expressing themselves and voting according to their consciences during the 2019 general elections.
ALSO READ: ERGP comment: Bill Gates just being polite on APC failure ―PDP
"President Buhari should, however, note that Nigerians can no longer be intimidated or cowed as they are now, more than ever before, ready to protect their constitutionally guaranteed rights as enshrined in our constitution.
"While the PDP is against any action by any citizen to undermine our security system, especially for political reasons, we insist that where such occurs, it must be addressed by procedures and processes provided by the laws of our land.
"We, therefore, join all well-meaning Nigerians to urge the military and all security agencies not to allow themselves to be used against the people."
The foremost opposition party called on the United Nations and the international community to note and condemn "this dangerous trend in our country."