The Federal Government and Organised Labour have agreed to a template on the consequential adjustments for the N30,000 new national minimum wage Thursday night with different percentages for each grade level from grade level 07-09.
According to the new template, workers on grade level 07 was agreed at 23.2 per cent; grade level 08 at 20 per cent; grade level 09 at 19 per cent; from grade level 10 – 14 at 16 per cent and from grade level 15 – 17 at 14 per cent.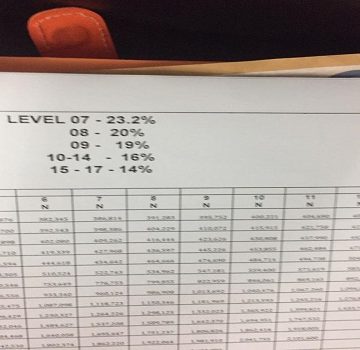 The salary scale template
As of the time, of filing this report, the meeting was still on, but there was high hope that both groups have accepted the new template, while they were putting a finishing touch to it.
The Minister of State, Labour and Employment, Mr Festus Keyamo, had, on his Twitter handle announced the truce reached between Federal Government and Labour representative, saying both parties have come to terms on the mode of payment.
Auto crash: Five burnt to death on Ondo highway(Opens in a new browser tab)
He wrote on his Twitter handle: "After some delicate negotiations (with both Ministers as conciliators) Government and Labour have finally reached an agreement on the consequential adjustments of other wages following the implementation of the enhanced minimum wage of N30,000. We are now working on the communique."
After some delicate negotiations (with both Ministers as conciliators) Government & Labour have finally reached an agreement on the consequential adjustments of other wages following the implementation of the enhanced minimum wage of N30,000. We are now working on the communique pic.twitter.com/P0EjSdUFIj

— Festus Keyamo, SAN (@fkeyamo) October 17, 2019