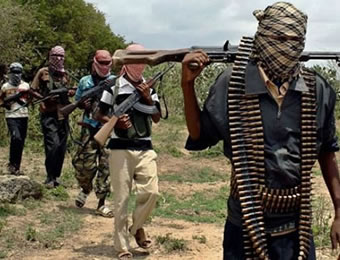 The Federal Government, on Tuesday, failed to open its case against the seven suspected Boko Haram leaders who were allegedly involved in the kidnap and murder of 11 foreign nationals between 2011 and 2013 in the Northern part of the country.
When the case was called, Adeola Cole, who appeared for the prosecution, told the court that the prosecution could not open its case as the lead counsel in the matter, Shuaibu Labaran, was sick and could not make it to court.
She apologised to the court and added that the lead counsel would be well and fit enough to be in court to open the case of the prosecution at the next adjourned date.
In his objection to the request for adjournment, counsel for the first, second, fourth, fifth and seventh defendants, S.M Abah, said there was no law that said if a counsel was not in court, criminal trial could not proceed.
He told the court that the prosecution was not helping matter in the trial and urged the court to proceed with the matter since a counsel had appeared for the prosecution.
In the same vein, counsel for the third defendant, Elisha Oloruntoba, said the absence of the lead counsel could not stop the proceedings, adding that on April 11 when the matter came up, the lead counsel appeared with a "galaxy" of lawyers and on April 4, when the court gave a ruling, three lawyers appeared for the prosecution.
"For them to come up with this application is unhearable," he said and added that the prosecution was aware of the nature of the charges hanging on the defendants, as it was their duty to be diligent in prosecuting the matter.
In his ruling, the trial judge, Justice John Tsoho overruled the objections of the defence, adding that refusal of the request for adjournment would not lead to the termination of the trial.
The judge held that both the prosecution and the defence needed time to prepare for the case, adding that this was the first time the prosecution was asking for adjournment.
Tsoho said the court would not decline the request for adjournment as it had to do with sickness of the lead prosecution counsel.
The court granted the application and adjourned the matter till June 6 for the prosecution to open its case.
It will be recalled that the court had earlier granted an application by the Federal Government seeking protection of witnesses slated to testify in the matter.
The Federal Government had slammed 11-count charge against the seven suspected leaders of the dreaded Boko Haram sect, to which they all pleaded not guilty when read out to them in the court.