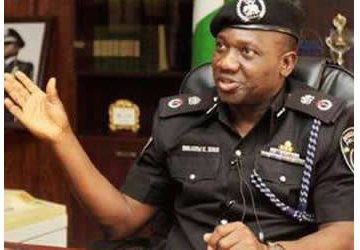 WORRIED by the increasing cases of incessant killings in Benue state and other parts of the country, the Inspector-General of Police IGP Ibrahim Idris on Thursday directed all the  Assistant Inspectors-General of Police AIGs, Commissioners of Police CPs and other Police personnel nationwide to go after any persons or group of persons wielding firearms.
Idris declared that such weapons such as pistols,  AK-47. Rifles  and other lethal weapons remained  outlawed under the nation's laws and that anybody caught with such illegal items should be arrested and prosecuted henceforth in order to wipe out such act which was prompting senseless killings in the society
This came just as the IGP urged the Officers and men of the Nigeria Police Force to brace up the delivery of successful general elections come 2019
He gave the  directive in Abuja on Thursday in Abuja  during the monthly IGP's Conference with Commissioners of Police and above
The IGP made it clear that Police officers must ensure the protection of the laws and order in the society at all times.
According to him, no individual no matter his position in the society has the authority under the laws of the land to approve the use of arms in the country except the Approving Authority.
ALSO READ: 2019: INEC seeks NURTW's collaboration in Ebonyi
"We must put our eyes on the activities of these individuals, no individual has authority to approve the use of firearms".
He lamented that the incidences of people using pistols and AK-47 rifles that were now in circulation in the country mostly borne by militia groups and individuals was not ideal in a law-abiding society.
The IGP also charged the officers to brace up for the upcoming 2019 General elections saying that commands must be watchful of misguided elements as the nation approached the political arena.
He promised the Police High Command was adequately ‎prepared for training and retraining of the officers and men of the Force for task ahead in order to deliver crisis and violence-free elections come next year