Alapini, Adegoke, others harps need for restructuring, demand violent free elections
…As Voice of Reason celebrates convener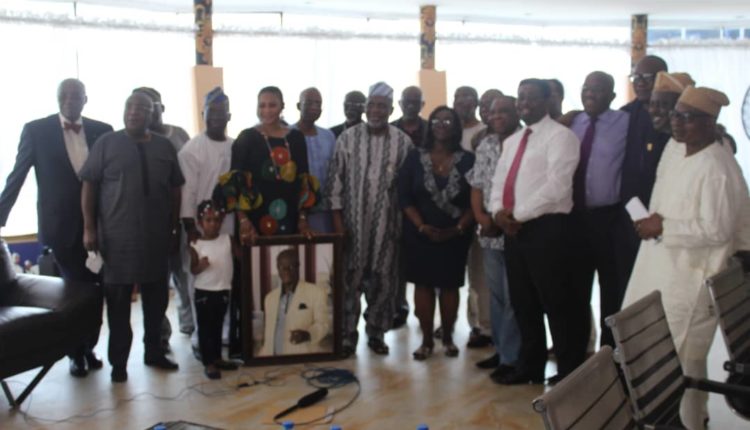 Dignitaries and leaders of thoughts including a retired Assistant Inspector General of Police, Mr. Tunji Alapini, on Thursday reiterated the need for the restructuring of Nigeria and a new constitution devoid of loopholes while calling for non violent, free and credible elections in the nation.
They made the call at the 70th post humous birthday celebration of late Goke Omisore, the convener of a policy think-tank Yoruba Interest Group, Voice of Reason (VOR) which held at Omisore's Omisson plaza, Lekki, Lagos
The dignitaries who described the late Omisore as a man who desired and fought for the enactment of a new constitution that will serve the interest of Nigerians and the restructuring of Nigeria economically, politically and socially,  promised to keep the agitation for the restructuring of Nigeria and enactment of a new people's constitution as desired by their leader alive until victory is achieved.
While speaking, Alapini said the group is doing a lot to ensure the success of its cause and has gone as far as publishing a draft constitution to drive the discussion and provide a detailed picture of what a restructured nation and a structured Yorubaland should look like, adding that much of the inspiration of VOR was derived from the infectious energy and total commitment of Goke Omisore.
"Our ultimate objective is the attainment of peace, prosperity and a conducive climate for the full expression of the creative genius of the Yoruba and other nationalities in Nigeria, good governance and a life free of security threats from kidnappers, sundry miscreants and rampaging local and foreign hoodlums posing as herdsmen," he said
On the general elections, Alapini, supported by members of VOR, urged Nigerian youths to avoid any form or act of political violence and admonished Nigerians to go out and cast their vote in a peaceful manner without any fear of intimidation.
The VOR chairman, Dr. Olufemi Adegoke while reading a tribute on behalf of the members stated that "Goke was full of life and for him, life had a purpose. That purpose, in the twilight of his life, was to see his Yoruba race and Nigeria at large, cut free of the physical and mental shackles that held them down, and rise to take their rightful place in the world.
"His passion, especially for Yorubaland was infectious. He did not have all the answers but he clearly discerned, like every one of us, that something was wrong with Nigeria that needed to be put right. The events that we have all witnessed since his death, culminating in the embarrassing hitch in the electoral process that we witnessed last weekend, are enough to convince even the most naive among us that we are indeed in a profound crisis as a nation and as a people.
"We must look back to the commanding heights of our history to guide us forward. An arrangement that enabled Western Region, from Ibadan, to institute free education and to build the first television station in Africa, not through 'Federal might', but through its local enterprise and leadership vision, was an expression of that true federalism that has unfortunately been eroded to the point of extinction by the 'unitary' experience of the past half century in our national life," he stated.