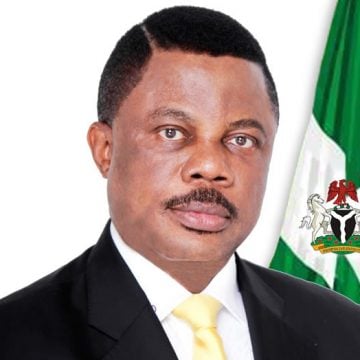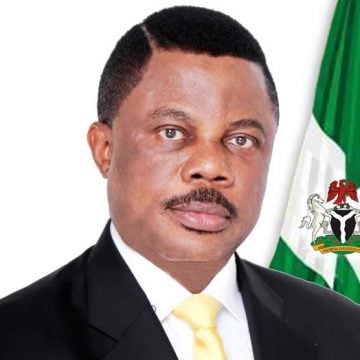 GOVERNOR Willie Obiano of Anambra State on Wednesday presented thirteen vehicles and twenty motorcycles to security agencies in the state.
Out of the total thirteen vehicles which are all four-wheel trucks, five were for the Nigeria Police Force and the Nigeria Security and Civil Defence Corps, NSCDC respectively, while the remaining three went to the Anambra State Vigilante Services.
The twenty motorbikes are also for the NSCDC.
Presenting the vehicles, Obiano explained that they were provided as requested by the agencies to boost their operational capacity in ensuring that the state remains safe for its citizenry.
He noted that his government having come with a mission to make the state a first choice investment destination and hub for commercial activities, it became imperative to address the insecurity that held sway in the state then, hence his huge investment in the security
area.
The Governor revealed that all the vehicles were procured from an indigenous manufacturer in keeping with his administration's resolve to continue to patronize locally-manufactured products, calling on the agencies to put the vehicles to proper use.
The Secretary to the State Government, Professor Solo Chukwulobelu, acknowledged that although security is capital intensive, the present administration is not relenting because it strongly believes that for any meaningful development to be actualized in the State, there must be security.
Responding, the State Commissioner of Police, Mr Garba Umar, thanked the State Governor for the gesture which he described as clearly based on his interest in the welfare of the Anamberians and promised that the vehicles will be duly deployed to serve the people.
Umar said the gesture is a morale booster that would go a long way in motivating officers in the State.
In their separate speeches, the State Commandant of the NSCDC, Mr John Ahwen and the Commander of the State Vigilante Services, Retired Commissioner of Police, Ikechukwu Aduba commended the Governor for his decision to bring everyone in the security business on board which has engendered coordination in their efforts, noting that with the vehicles, they are better poised to achieve greater result in their responsibility of protecting lives and property of the citizenry.
The Governor was also during the event presented with a letter of appreciation in acknowledgement of his benevolence in providing financial assistance to the families of three policemen and one DSS officer who died in the build-up to the just concluded Anambra Governorship election.
"We must continue to appreciate them because if we don't do this, who will be ready to pay the supreme sacrifice for our safety? The officers are sent out to protect us and when they are going, they are not even sure of coming back and having paid the supreme sacrifice, should we leave them just like that, definitely not and it is in appreciation of what they have done that we are doing this," the Governor said.
READ ALSO: 2 years in office: Ministry votes N1 billion reward for best performed agency