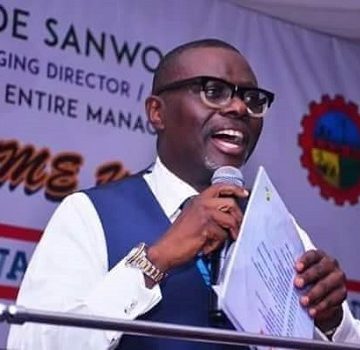 LAGOS State chapter of All Progressives Congress (APC) has assured that its governorship candidate, Mr Babajide Olusola Sanwo-Olu, is very ready and well prepared to pilot the affairs of the State from 2019 after he must have been sworn in.
APC said this in a statement made available to newsmen on Tuesday, in reaction to the remark by the state chapter of Peoples Democratic Party (PDP) that Sanwo-Olu, the ruling APC standard-bearer, who was recently endorsed by 45 opposition parties, was "an emergency candidate that is unprepared for the job."
Spokesperson of APC, Mr Joe Igbokwe, while reacting to the remark made by his PDP counterpart, Mr Taofik Gani, said Sanwo-Olu was more qualified to rule the State than the PDP candidate, Mr Jimi Agbaje, who it said lacked a public sector experience.
"Babajide Sanwo-Olu has a five-page resume that is in the public domain and time and space will not permit us to put it here. Babajide Sanwo-Olu is a proud product of the University of Lagos with a degree in Surveying & Informatics and a Master's degree Holder in Business Administration, MBA.
"Babajide Sanwo-Olu has an enviable Banking career where he rose to the position of DGM at First Atlantic Bank, now First City Monument Bank. He came into the public sector when he was appointed the Acting Commissioner for Economic Planning & Budget in less than a year after he joined the Asiwaju BAT as SA on Corporate Affairs.
ALSO READ: Why we instituted scholarship scheme ― Bello's spokesman
"In 2006 he became the Commissioner for Commerce & Industry and 2007 he became the Commissioner for Establishment, Training & Pensions under Fashola Administration which he served diligently from 2007 to 2011.
"Babajide was appointed the MD/CEO Lagos State Property Development Corporation (LSPDC) by Governor Akinwunmi Ambode in 2016 and he has made humongous impact and progress in that huge corporation until he joined the race for the governorship of Lagos State. This is the loaded and heavily experienced Sanwo Olu PDP described as 'an emergency candidate that is unprepared for the job,'" Igbokwe stated.
Igbokwe predicted doom for PDP, come 2019, saying that its candidate, Agbaje would suffer a defeat in next year's poll like his predecessors since 1999.
The APC spokesperson said PDP that was destined to contest and fail had become a "rudderless, confused, motionless and completely dead party," noting that it had now resumed its periodic ritual of "rants and tall dream," which usually heralded its failure in elections every four years.
Speaking further, the APC spokesperson said the recent endorsement of Sanwo-Olu by 45 opposition parties had jolted the PDP and its candidate out of their delusion about a bright electoral future, declaring that the APC's strategies and tactics for building a virile and democratic governance were beyond the comprehension of Lagos PDP leaders.
Besides, Igbokwe said the choice of a new governorship flagbearer by the APC should be a wakeup call to all political parties to understand the real meaning of a party, the imperative of party supremacy and the doctrine of party discipline.
"The Lagos PDP claim of 'hurried and controversial emergence' of Sanwo-Olu shows lack of clear understanding of the dynamics and inner workings of Lagos APC.
"What Lagos APC did in Lagos is to advance the cause of democracy and prove that the party is supreme as we have seen in other climes like South Africa where former Presidents Mbeki and Zuma were asked to step down in order to advance and strengthen the fortunes of the party.
"The huge lessons have been sent out there for elected persons not to ignore the platforms they used to get to power, and not to kick away the ladder they used in climbing up to where they are," Igbokwe said.