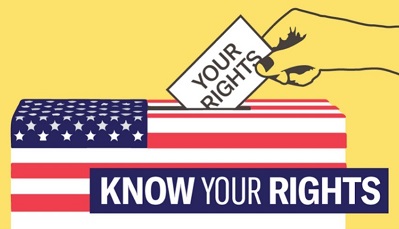 The American Civil Liberties Union has this advice out on voter intimidation. It comes within a context of widespread allegations of voter suppression and confusion over voter ID laws in some states.
This year's midterms have been bitterly fought but beyond everyday electioneering lies something more sinister.
Residents in parts of Alabama, Delaware, the District of Columbia, Florida, Georgia, Maryland, Massachusetts, Michigan, New Jersey, Pennsylvania, Rhode Island, South Carolina and Tennessee are heading to the polls.
Many polling stations across these states and Washington, DC opened at 7 am local time Aljazeera reported
The run-up to this year's vote including a failed pipe bombing campaign targeting opponents of President Donald Trump, the murder of two African-Americans in a grocery store by a white supremacist, and a massacre of Jewish worshippers by a man shouting anti-Semitic slurs at a synagogue in Pittsburgh.
Coupled with the violence, has been a rise in anti-immigration rhetoric within parts of the Republican party, spearheaded by Trump and others on the GOP's far-right.
In this piece, Al Jazeera looks at how the rise of hate speech and violent acts are linked.
ALSO READ: European Leaders call Saudi account of Khashoggi death inadequate
Facebook announced late on Monday it had blocked 30 Facebook accounts and 85 Instagram accounts for possibly being engaged in "coordinated inauthentic behaviour".
"Almost all the Facebook Pages associated with these accounts appear to be in the French or Russian languages, while the Instagram accounts seem to have mostly been in English – some were focused on celebrities, others political debate," Facebook said in a statement.
"Typically, we would be further along with our analysis before announcing anything publicly. But given that we are only one day away from important elections in the US, we wanted to let people know about the action we've taken and the facts as we know them today.
"Once we know more – including whether these accounts are linked to the Russia-based Internet Research Agency or other foreign entities – we will update this post."