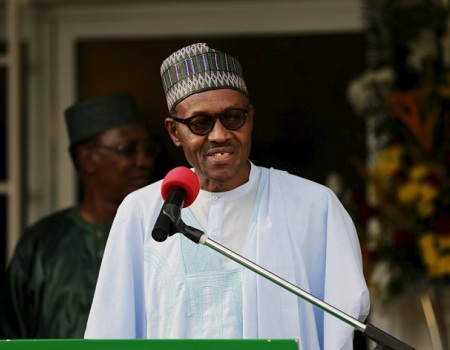 PRESIDENT Muhammadu Buhari has admonished youths in the country not to allow themselves to be used as agents of destabilisation by some selfish politicians in the coming general election.
In his address at the 34th convocation ceremony of the University of Ilorin on Tuesday, the President advised parents and guardians to implore it on their children to behave responsibly before, during and after the elections, saying that there are some politicians who do not mean well for our democracy and our dear nation in the 2019 general elections.
Represented by Executive Secretary, National Universities Commission (NUC), Professor Abubakar Rasheed, President Buhari said that, as future of Nigeria, youth must not allow their future to be destroyed by anyone no matter how highly placed or materially endowed.
ALSO READ: Buhari tasks traditional rulers on building bridges across ethnic divide
Director, Quality Assurance, NUC, Noel Salihu, read the president's speech on behalf of Professor Rasheed at the event.
"My dear graduands your parents and our nation have invested so much in your future and it is my advice not to allow yourselves, who have been carefully trained, continuously nurtured to be turned into agents of destruction by selfish few.
"It is also imperative to make this appeal for authorities of tertiary institutions in the country to wage a relentless war against all forms of indiscipline towards protecting the sanity of this segment of our population. You must fight examination malpractices, hooliganism, cultism and sexual harassment."
Also speaking, former UN Under-Secretary-General, Professor Ibrahim Gambari, called for the intensification of a non-discriminatory anti-corruption war.
The diplomat also advocated a restructuring that would ensure human resources are properly used to enrich the nation.
"The 2019 elections must be a game changer. Nigerians want to see a nondiscriminatory intensification of the anti-corruption battle on all fronts with thorough investigation and convictions which serve as credible deterrence.
"They want to celebrate the end of Boko Haram and an end to insurgency. They want to see an improved economy where there is job creation and wealth creation. They want to see a fiscal regime that firms up the naira against the other currencies through effective control of the oil economy and a well-diversified economic culture.
"They want to see and live in a society where kidnapping is effectively checked, and above all, Nigerians want to see a restructured country where the people's energies are efficiently tapped and run for over-all national wealth creation", he said.
He also charged the graduating students not to allow themselves to be used to breach peace and do things antithetical to growth of democracy.
"As you go out there, never allow yourself to be used to do bad things. You must set only the highest targets and most rigorous standards for yourselves as a mark of self-respect and in the firm understanding that in the end, the democracy we practice is one that brings about transformation in peace, development and in all spheres of our national life", he said.