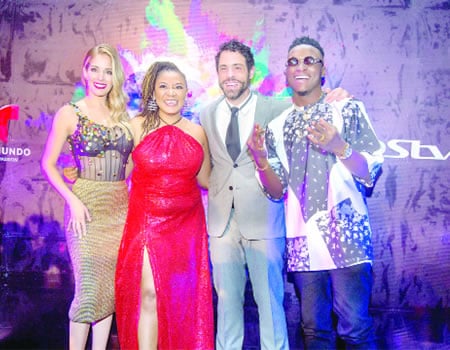 Some of the biggest Telemundo stars visited Nigeria last weekend and were hosted at the Intercontinental Hotel, Lagos. Super stars, Carmen Aub and Alberto Agnesi were in Lagos to network and interact with their teeming Nigerian audience who thronged the venue to catch a glimpse of their favourite telenovela actors.
Carmen is known for her award-winning role as the villainous Rutila Casillas in Lord of the Skies, while the gorgeous Alberto has kept fans on the edge of their seats as FBI agent, Marcelo Doriga in Woman of Steel, among other series.
The three-day event started with a cocktail party for industry stakeholders to network and discuss the reception of the Nigerian public to Telemundo's telenovelas. With Nigeria as one of the leading nations with the highest viewer ratings for the channel, both actors were warmly received and were even
taught how to dance 'shaku shaku', a trending hip hop dance from the country. Carmen and Alberto spoke glowingly about their reception and thanked the organisers for a chance to interact with stakeholders from Africa.
On the second day, both actors met the media, where various questions were asked as regards their careers, experiences and future plans. Speaking at the briefing, Carmen revealed details about the upcoming telenovela, 'Lord of the Skies' wherein she will be playing a major role, urging fans to anticipate it. One on one interviews with both superstars will be printed in next week. Watch out.