Xiaomi launches Mi 10T series Smartphones in Nigeria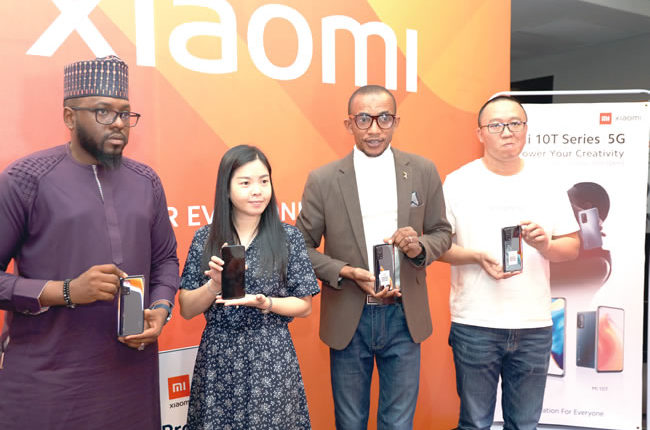 Xiaomi Nigeria has announced the release of a trio of smartphones that it said would power users' creativity like never before. The flagship Mi 10T Pro, according to the company, takes creating and exploring to the next level, with unmatched specs in its class.
Mi 10T, it said, continues to push boundaries, delivering top-notch experiences for everyone from working professionals to streaming enthusiasts and mobile gamers, adding that Mi 10T series bring 5G to everyone and offers unparalleled user experience in Nigeria.
Continuing Xiaomi's category-defining ultra-high resolution legacy
A statement from the company following the launch of the phones in Lagos last week, said:  "Continuing Xiaomi's category-defining ultra-high resolution legacy, there's no denying Xiaomi's pivotal role in defining the 108MP camera segment, from debuting the world's first 108MP smartphone camera to introducing countless photography software innovations in the past year alone.
"Mi 10T Pro continues the brand's ultra-high resolution legacy with OIS and 8K video support. Mi 10T offers an impressive 64MP main camera. But it doesn't stop there, both Mi 10T Pro and Mi 10T offer a triple camera setup with a 13MP ultra wide-angle camera and 5MP macro camera, equipping it to capture moments that matter. And with a 20MP front camera, anyone can look their best, whether taking a selfie or video-calling a loved one."
The statement further added that, building on Xiaomi's existing technology, that Mi 10T Pro and Mi 10T flaunt new and dynamic photography software features.
It said:"Six stand-alone Long exposure modes let anyone capture artsy shots, from Moving crowd, which focuses on an idle subject, while blurring dynamic surroundings, to Star trails, which creates a swirling starry sky effect. Photo Clones captures four of you in a single shot. Plus, Timed burst feature offers endless opportunities for fun, allowing users to set up photos with a time gap that can also be converted into video, while three new photo filters – Cyberpunk, Gold vibes and Black ice – help bring the desired mood to life."
"Pushing the boundaries even further, Mi 10T Pro and Mi 10T also offer compelling new video features. Video Clones captures "two selves" in one video, while Dual Video can record from the device's front and back cameras simultaneously, making it ideal for capturing surprise reactions. Finally, Time-lapse selfie video lets users create a fast-forward effect for more engaging vlogs," the statement stated.
YOU SHOULD NOT MISS THESE HEADLINES FROM NIGERIAN TRIBUNE
COVID-19 Infections Surge Again As Nigeria Records Highest Weekly Cases In Four Months
Last week, the country's COVID-19 infections witnessed yet another significant increase. Nigeria recorded 3,817 new COVID-19 infections which is the highest the country has recorded in over four months, Tribune Online analysis shows…
[ICYMI] Minutes After Electoral College Elected Joe Biden, US Attorney General Resigns (Resignation Letter Inside)
A close ally of President Donald Trump and the United States Attorney General, William Barr, has resigned his appointment after holding a meeting with the president…
Bandits Moved Abducted 333 School Boys On Bikes —DHQ
THE Nigerian Army, on Monday, gave more insight into the abduction of school children in Kankara Local Government Area of Katsina State…
Pollution, Deforestation: How Ignorance, Unclear Environmental Policies Influence Booming Fish Smoking Industry
Rays of the afternoon sun pelted her head as she fanned the embers beneath the half-cut iron drum with the smoke permeating the air. "This smoke is unbearable, Iya Maria," said one of the three neighbours conversing under a makeshift shed about five meters away. Their voices rose and fell intermittently…