WTO General Council meeting to pick either Okonjo-iweala or Yoo Myung-hee as DG postponed until further notice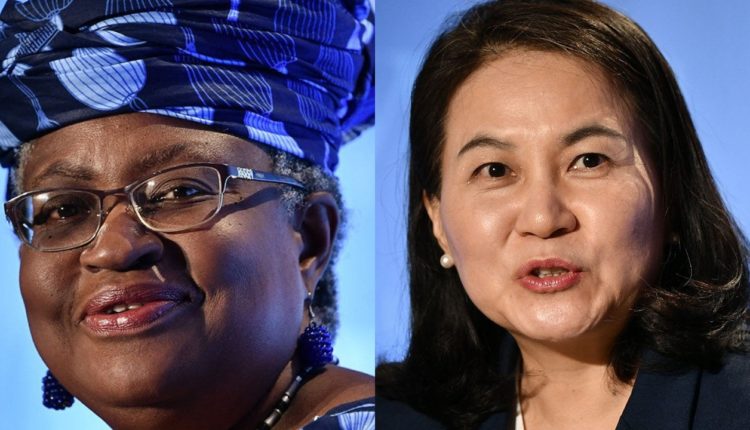 The General Council meeting of the World Trade Organisation (WTO) expected to hold on November 9 to pick a new Director General of the organisation has been postponed until further notice.
Chairman of the General Council, Ambassador David Walker, informed the 164-members of the council in a statement on its website on Friday.
The council had initially planned to meet on November 9 to pick the new Director General between former Nigeria's Finance Minister, Dr Ngozi Okonjo-Iweala and South African Trade Minister, Yoo Myung-hee.
Many of the ambassadors of the world body as well as African and European countries have declared their support for Dr Okonjo-Iweala while the United States kicked against the emergence of the former Nigerian Finance Minister, rooting for Ms Yoo Myung-hee.
But according to the statement on the website of WTO: "The General Council meeting scheduled for 9 November to consider the appointment of the next WTO Director-General has been postponed. Ambassador David Walker, the chair of the General Council, informed members of the decision on 6 November.
Ambassador Walker said the meeting would be postponed until further notice, during which time he would continue undertaking consultations with delegations.
YOU SHOULD NOT MISS THESE HEADLINES FROM NIGERIAN TRIBUNE
Buhari, Others Not Supposed To Be Going On Foreign Medical Trips, Senate Tells State House Clinic Officials
The Senate has expressed its reservations over foreign trips for medical treatment by President Muhammadu Buhari and other top senior public officials. It demanded that the State House clinic should be made functional, effective from next year…
9.8 Million People From FCT, 16 States Suffering From Hunger In Nigeria ― FAO
Over 9. 8 million people from 16 states and the Federal Capital Territory (FCT) are reported to be suffering from food insecurity in Nigeria. According to results food analysis from the Agriculture Organization of the United Nations (FAO) on Thursday in Abuja, Borno, Adamawa, Yobe, Benue, Gombe, Taraba, Katsina, Jigawa states are struggling with food insecurity and malnutrition..
Why Atiku, Ekwueme Alliance Collapsed In 2003 ―OBJ
Former President Olusegun Obasanjo on Thursday in Ibadan, Oyo State capital, attributed the defeat of erstwhile Vice President Alex Ekwueme during the 2003 presidential primary election of the Peoples Democratic Party (PDP) to the collapse of the alliance between him (Ekwueme) and former Vice President, Alhaji Atiku Abubakar…