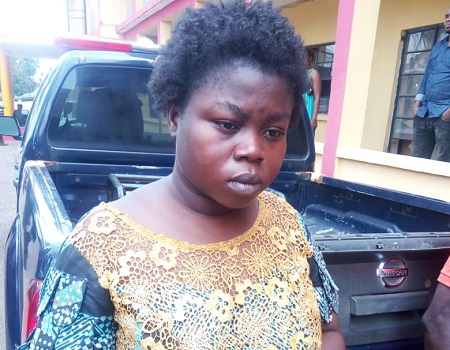 A 26-year-old woman, Bunmi Adebayo, has been arrested for stealing a three-week-old baby, David Oluwaseun, in Modakeke, in Osun State.
She was said to have tricked the mother of the child, Eniola Adebode, and Eniola's mother under the guise that she needed accommodation in their house.
The State Commissioner of Police, Ahmed Iliyasu, said the suspect kidnapper committed the crime out of desperation to have a child for her husband.
She was said to have a fake pregnancy for her husband following a childlessness which led to the stealing of the baby.
The CP said the suspect was traced from Modakeke to Orile-Imo in Obafemi Owode Local Government Area of Ogun State following a complaint made by the suspect's husband and to the Police.
He said, "This is a case of desperation taken too far and once somebody is too desperate, it will definitely lead to criminality.
ALSO READ: Boosting economy with cocoa production
"In her desperation to have at least a child for her husband, she decided to fake pregnancy and she informed the husband who used to visit her at intervals that she has conceived for him.
"After nine months, she called to inform the husband of her safe delivery of a bouncing baby boy, the news that gladdened the heart of the man who rushed to her house, but became curious when demanded the placenta and the wife was unable to present it.
"He equally asked the woman to breastfeed the child in his presence and again she was unable to do so. Having realized the curiosity of her man, she absconded from her house and the husband consequently reported a case of missing person to the police.
"She was subsequently tracked down to Orile-Imo village where she was hibernating with the one-month-old baby and was promptly arrested."
Speaking with newsmen, the suspect said she regretted her action, saying she had carried eight pregnancies which led to a miscarriage.
"I didn't have the intention of stealing the baby before. But I wanted to take care of him. I regret my action. It was because of frustration. I have had about eight pregnancies in the past but all ended up as miscarriage," she said.
The suspect according to the Police boss would be charged to court from prosecution at the end of Police investigation.