Iké Udé is a New York-based, Nigerian-born photographer, performance artist, author and publisher. He is best known for his conceptual photographic portraits that explore issues of representation and sexual, gender, cultural, and stylistic identity. From June 1 to16,2019, Udé's first photography exhibition in Nigeria entitled: "Nollywood Portraits: A Radical Beauty" will hold at Alliance Française, Lagos. In this interview, Udé speaks on what to expect at the exhibition.
How long have you been away and why are you back home?
I've been away since 1981 and spend most of my life in Manhattan, New York; mostly in the Bohemia, downtown New York City. I became acutely aware of Africa and my Pan Africanism as a result of looking at Africa from the outside. It's a radically different perspective than resident Africans who are within the continent and really don't get an objective, hardcore view of themselves, in relation to their fellow Africans and in relation to nuanced international machinations and the aesthetic, no less the politics of looking, the demeaning framing or ciphered Western gaze of Africans as the quintessential other. So, the bond, to borrow your term, is immeasurable, intact and intense.
ALSO READ: Another Nigerian Victoria Obaze becomes Mayor in UK
Tell us about your years of practice as a photographer.
I studied photography with the great and late Roy DeCarava. It was mostly in the black and white tradition with an emphasis in composition and darkroom post-production editing. I hated the darkroom and didn't pay much attention to it. But studying with him made me aware of the importance of the medium. Thereon, in the 1990s, with the exception of my ULI series that referenced the Igbo Uli body paintings, I'd employed the photo medium for conceptual photography—which was more about concepts and semiotics of representations than aesthetic concerns. But this ultimately left me unsatisfied and yearned for a radically new way of making rather than merely taking photographs. I yearned and eventually found a distinct signature visual language and style of making pictures in the photography medium that is uniquely my own and instantly recognized as Udé's pictures. Thus far, I've focused on both self-portrait and portraits of other people who interest me for various artistic, historical and/or myriad representational reasons. The "Nollywood Portraits: A Radical Beauty", being an excellent example.
What were the difficulties you encountered when you first started photography and exhibitions?
None really. If any, it is in the technical aspects of camera operation and lighting—mostly because I didn't like doing them but would rather hire excellent assistants to take care of it. To my surprise, I'd since mastered these technical aspects too. My chief interest is in composition, lighting, colour, atmosphere and other imaginative, poetic, aesthetic, artistic needs of my respective pictures. Exhibition wise, my work and style don't easily fit into the "African/Black" box of photography or art. I'm fiercely and proudly independent and don't like to fit into any category or movement, say.
How many exhibitions have you had?
So many solo and group exhibitions to name. Please see my website and my gallery's website for examples:
Ikeude.com  or http://www.leilahellergallery.com/artists/ik-ud
How would you describe your technique and style?
Painterly, elegant, beautiful, smart, art-historically-informed-fluent-correct.
What is your collection for the exhibition addressing?
Iké: A radically smart, intelligent, elegant, beautiful, anti-safari-perspective and dignified mode of African representation and representations in general, beyond the African subject.
What is the title of the show?
"Nollywood Portraits: A Radical Beauty"
What first drew you to photography—and how did you discover it?
From childhood when our family photographer would come over to photograph the whole family on almost a monthly basis.
What do you think makes a memorable photograph?
The style, the how (composition, form, lighting, colour) and other precious, unquantifiable intangible poetics. I think that emphasis on political or socio-political content of a picture becomes irrelevant once the topical issues of the picture fade or are forgotten with the passage of time. But an exquisitely and imaginatively, a well-composed picture is invariably timeless in its appeal, regardless of when or where it was made.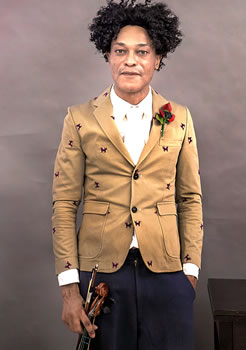 How has social media played a role in your photography?
The internet more than, says social media has played a convenient and resourceful, informative role for me. Surfing the internet has exposed me to a plethora of varied images, styles, traditions, etc., that I wouldn't have otherwise come across and learned from.
How does black and white versus colour play into your work? Do you find them to be totally separate or complementary?
I studied black and white photography and consumed more of it before colour photography. It's much easier to achieve a harmonious picture in black and white photography than in colour. Evidently, a superbly realized colour photography is far superior to black and white photography. But the mastery and fluency with colour is the hardest thing ever for a painter or photographer. Yet, if one understands why black and white photography is easily harmonious and works, it yields one the answer to how to make perfect colour photography. So there is a visual, aesthetic, poetic dialectic between the two. It took me a while to figure it out, appreciate it and make the most of it.
How many exhibits for the show? In colour or black and white?
The whole exhibition is in colour. There are 64 individual portraits and one grand group portrait of all the subjects which I named "The School of Nollywood" a reference to and departure from Rafael's 1509 fresco, The School of Athens which can be seen at the Apostolic Palace in the Vatican
What inspires this homecoming exhibition and why now?
The Nollywood Industry. I have such immeasurable admiration for them; their industriousness, tenacity, DIY-can-do-attitude, cleverness, confident, swag, etc.
What is the unique selling point of the show?
Nollywood is the Nigerian and African mirror par excellence!
Who are some of your favourite classic photographers, and how did they influence you?
When I was younger, Man Ray, Cecil Beaton, Edward Weston, Steichen and photographers from the 1920s through the early 1950s. But since I came into maturity as picture-maker around 2008 and post my unalloyed conceptual photography phase, it is European Old Master painters that inspire me beautifully. And just as well, I love the ancients, ranging from the Pharaonic Egyptian, Hellenic/Athenian Greek, Pompeii, Assyrian, Indian and Persian miniature pictures; Italian Renaissance and Dutch/Flemish painters.I'm also profoundly indebted to colours and rhythmic abstractions and colours of African fabrics—especially the West African fabrics as well as South African ones. I love the freedom, fearlessness, inventiveness, beauty and poetics of the African fabrics.
What do you think are some clichés in photography you steer away from yourself?
The religiosity and conservative attitude; the expectations of 'truth' and facts; obsession with accuracy and technicality invested, expected and even expected or obligated that artists working with the medium abide by. Art or photography isn't a religion, there and must be myriad ways to employ and work with the medium. And in the hands of artists, the photographic medium and results shouldn't concern itself with factuality and truths. The artist must have and feel at liberty to use the medium as he or she sees fit in the service of the resultant, artistic pictures in question. Agencies such as the police force or law enforcement agencies are more suited for taking factual, inartistic photographs and understandably for their legal/security purposes. And they excel at this. I'd say that 98 per cent of fine art photographers are basically reproduction of facts, essentially journalism. And this is due to the religiosity and conservative attitude and "ethical" expectations still expected and demanded in of photographers and in photography. I'm totally against it! There shouldn't be ethics of photography or preordained expectant truths or facts in photography, unless for journalistic or legal reasons.
When you are out shooting—how much of it is instinctual versus planned?
It depends. Sometimes it is indeed 50/50; sometimes, 40 per cent planned and 60 per cent instinctual. I think that in portraiture, having consumed so many modes of portraiture from antiquity to now, my subconscious mind pretty much guides me during the shoot.