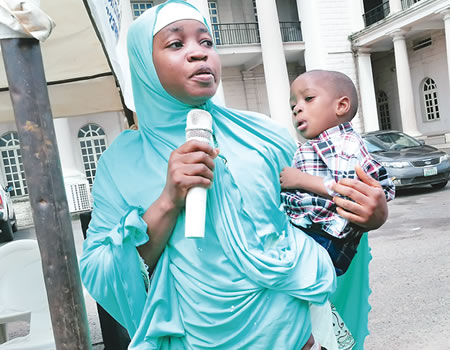 Having a baby born with a cleft can be upsetting. But in this report by SADE OGUNTOLA, experts say that cleft lip and cleft palate can be corrected by a series of surgery, and thus restoring normal function and achieving a more normal appearance with minimal scarring.
Having a baby born with a split in the lip and roof of the mouth can be upsetting, but these can be corrected. In most babies, a series of surgery can restore normal function and achieve a more normal appearance with minimal scarring.
That was evident looking at Olamilekan Sakirulai, a four-year-old boy brought in by his mother to the University College Hospital (UCH), Ibadan, Oyo State, cleft and palate awareness programme at Mapo Hall grounds in Ibadan.
Olamilekan, the fourth child of his mother, had his split lip repaired for free at the UCH. Except for the fading scar of the surgery on his face, there was no sign that the boy was born with such an anomaly.
Smile Train, an international cleft charity had been supporting the hospital as its treatment centre to ensure it can offer free surgical repairs to children that were born with openings or splits in the roof of the mouth and lip, what is medically termed cleft lip and cleft palate.
During pregnancy, some parents learn their child will be born with a cleft lip or cleft palate. Other families find out at birth. Now, cleft lip and cleft palate are birth defects of the face that occurs when a baby's lip or mouth do not form properly during pregnancy. Together, these birth defects are commonly called "orofacial clefts"
"Mothers keep such babies hidden at home; sometimes, fathers will deny having that kind of a child in their family. So, this awareness is to say that there is care for such children to ensure they can grow to their full potentials," said Dr Victor Akinmoladun, UCH's Director of Clinical Services, Research and Training.
He declared that cleft lip and cleft palate are birth anomalies on the face that the hospital has been repairing for free for about 10 years, adding that in the last 10 years the hospital had done about 300 cases.
The causes of orofacial clefts among most infants are unknown. But Dr Afieharo Michael, a consultant oral and maxillofacial surgeon, said women that smoke, drink alcohol, self-medicate, especially in early pregnancy, stand a high risk of giving birth to a baby with cleft lip and cleft palate.
Also, she said the problem runs in some families and may be due to lack of folic acid during pregnancy.
Certain medicines that treat epilepsy, for example, can increase the risk of a cleft if used during the first three months of pregnancy. Women who come into contact with certain chemicals when they're pregnant may also have a baby with a cleft.
However, she declared that children with a cleft lip with or without a cleft palate or a cleft palate alone often have problems with feeding and speaking clearly and can have ear infections. They also might have hearing problems and problems with their teeth.
While most babies with cleft lip can breastfeed, a cleft palate may make sucking difficult. Also, the transition to eating mushy or solid foods is also difficult for children whose palates are not fully repaired.
Unfortunately, many myths abound on cleft lip and cleft palate, fuelling stigma against affected children, sometimes their mothers and their attainment in life.
Some people say that it is something from the gods; a curse from the gods; a bad omen, an aftermath of a pregnant woman walking in midday sun; and voodoo.
But, medical science has faulted these beliefs. Dr Adeola Olusanya, a consultant oral and maxillofacial surgeon to UCH declared, "these are not according to our understanding of the condition. The defects would have occurred about the fourth to eighth week of pregnancy, a period that the mother may not even be aware that she is pregnant."
Dr Olusanya said these myths had been a big challenge, and so doctors resorting to counselling mothers with babies with cleft palate or lips on its possible cause and how best to take care of babies with the anomaly.
A cleft lip happens if the tissue that makes up the lip does not join completely before birth. This results in an opening in the upper lip. The opening in the lip can be a small slit or it can be a large opening that goes through the lip into the nose.
A cleft lip can be on one or both sides of the lip or in the middle of the lip, which occurs very rarely. Children with a cleft lip also can have a cleft palate.
A cleft palate happens if the tissue that makes up the roof of the mouth does not join together completely during pregnancy. For some babies, both the front and back parts of the palate are open. For other babies, only part of the palate is open.
Cleft lips are usually picked up during the mid-pregnancy anomaly scan carried out between 18 and 21 weeks pregnancy. Not all cleft lips will be obvious on this scan and it is very difficult to detect a cleft palate on a routine ultrasound scan. Sometimes certain types of cleft palate might not be diagnosed until later in life.
However, Dr Olusanya said that there are various types and degrees of these deformities of the face, adding that in some instances such children tend to also have other birth defects such as club feet and deformed ears.
"Those that affect the roof of the mouth (palate) alone are usually more in girls and those with lip and palate are mostly in boys. But thankfully, clefts that occur with no other major birth defects, are one of the most common types of birth defects," she added.
Services and treatment for children with cleft lip and palate can vary depending on the severity of the cleft; the child's age and needs; and the presence of associated syndromes or other birth defects, or both.
Surgery to repair a cleft lip so that it  is no longer noticeable, Dr Michael, said usually occurs when the child is about three months and the baby weighs at least five kilogrammes.
But, surgery to correct the hole in the roof of the mouth or jaw is done when the child is about a year before the child begins to speak properly.
"But the doctor starts to attend to such children right from birth; they get counselling on how to feed and take care of them; they are guided on infection control in these children. Of course, the children would have been accessed for other associated problems, in preparedness for the surgery," she added.
Surgical repair can improve the look and appearance of a child's face and might also improve breathing, hearing, and speech and language development.
These children might need other types of treatments and services, such as special dental or orthodontic care or speech therapy. With treatment, most children with these face defects do well and lead a healthy life.
Psychologists and therapists often help teens also deal with the emotional effects of cleft lip and palate, such as scarring from surgery, coping with speech problems, or improving self-esteem.