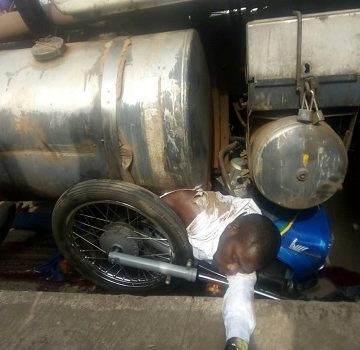 A fuel-laden tanker on Friday crushed a commercial motorcyclist, simply identified as Kayode, to death in Alagbaka area of Akure, Ondo State capital
It was gathered that the incident occurred when the fuel tanker which was heading towards Yeoma Plaza was stopped by the traffic warden on duty but lost control of the vehicle.
He explained that the tanker rammed into the motorcyclist who was approaching the junction and killed him on the spot.He said it took the intervention of the Men of the Federal Road Safety Commission to remove the remains of the deceased under the petrol tanker.
He said " the tanker was stopped by the traffic warden but the driver claimed he lost control of the vehicle and rammed to the bike man and crushed him.
"The tanker first dragged the cyclist forward and eventually crushed him before stopping. We tried to rescue him but it was too late because the vehicle was on him."
He, however, said the younger brother of the deceased escaped unhurt from the accident but lamented that deceased (Kayode)  married some couples of weeks ago while his wife is pregnant.
While speaking the tanker driver who described the incident as unfortunate said he was coming from Ore with a full-load of petroleum but lost control of the vehicle.
Angry Okada riders, however, besieged the scene of the accident and descended on the driver of the vehicle but was rescued by some security operatives who took him away.