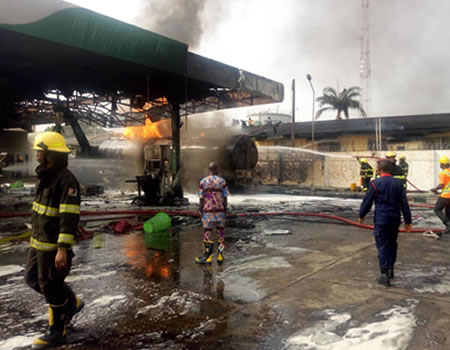 The Forte Oil Station located at the local wing of the Murtala Muhammed Airport, Lagos on Friday afternoon, caught fire leading to serious traffic congestion.
According to information gathered by TribuneOnline, trouble started when a tanker parked inside the station while dispensing the content suddenly sparked and subsequently led to a fire outbreak.
The inferno which broke out around 2pm led to serious panic and subsequent heavy vehicular traffic which spread to the Ikeja axis of the airport.
According to information, things almost ran out of control when the fire owing to the dry season spread out fully within the filling station which caused many airport workers and other users to run for their dear lives, a situation which created serious confusion.
It took the intervention of the fire fighters of the Federal Airports Authority of Nigeria (FAAN) and those from the nearby Lagos State Fire Service at Ikeja to put out the fire by 3:15 pm.
Many passengers going to catch their flights but were caught up in the melee missed their flights while the lucky ones detoured to access the airport through the Mafoluku/Oshodi axis.
                                              ALSO READ: 80 stores destroyed in yet another Ogbe-Ijoh inferno
An eyewitness account attributed the fire escalation to what she called the inability of the firefighters to come to the rescue on time claiming that the fire started as a minor issue.
The tragedy, however, did not cause any human or vehicular casualty as all those at the petrol station had earlier rushed out of the scene when the fire was just starting.