Shettima raises education endowment fund for late orderly's kids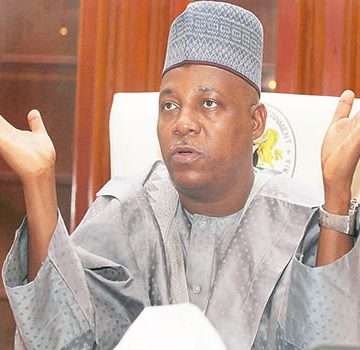 NEARLY eleven million naira has been contributed to a private endowment fund created by Governor of Borno State, Kashim Shettima to raise contributions for the education of eight children of his deceased police orderly, Inspector Mohammed Azare.
Tribune Online recalls that Azare an origin of Bauchi who has served the Governor since 2011 collapsed and died last week Monday at the entrance of Government House in Maiduguri after returning from a working trip to the federal capital Abuja.
To boast the scholarship endowment, Governor Shettima made a personal donation of N5m to the fund, his Deputy, Usman Durkwa N1m, Commissioners N2m while chairmen of the 27 local government areas in the State doled out N100,000 each bringing their contributions to N2.7m.
Spokesman of the Governor Isa Gusau said that "the fund had risen to about N10.7m as at Sunday been total amount donated from public and private individuals aside from the fact that the Governor had placed the orderly's family on a monthly feeding allowance by the Governor.
"Shettima also created a small committee that comprised a representative of the late orderly's extended family, one of his closest friends, and a security official to manage the funds gathered as a joint signatory to a dedicated Bank account for the purpose of funding the education of the children over a period of time.
" The Governor also released the fund to an aide to settle all debts the late orderly might be owing anyone in line with Islamic rites. Shettima also directed that the late orderly's widow be allowed to retain her husband's accommodation in the Government House until the end of his administration or such a time the alternative arrangement is made for them.
"A Government delegation was sent to Azare by the Governor last Tuesday to condole with his extended family members."
"The Governor attended the deceased's funeral in Maiduguri last Tuesday and received condolences from the Shehu of Borno, the State Executives of the All Progressives Congress, and some officials.
"The Governor described the late Azare as one of the finest policemen he had ever known, describing him as extremely dedicated and God-fearing throughout the time they worked together since his first term of becoming Governor in 2011," said Gusau.
The late police officer had spent about 26 years in the force before his death last week in which he died on the spot.