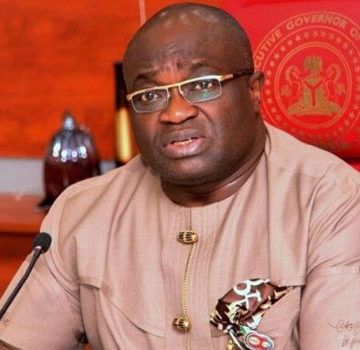 LANDS Lords under the auspices of "Aba House Owners Association" have backed Governor Okezie Ikpeazu of Abia State re-election in 2019 gubernatorial poll.
The latest endorsement from the Aba House Owners Association is one of the numerous endorsements asking Dr Ikpeazu to re-contest for the 2019 governorship election in the state, even as the Peoples Democratic Party (PDP) governor is yet to make public his intention to re-contest.
In a communique which was made available to Nigerian Tribune on Monday was signed by the leadership of the House Owners Association representing those from Anambra, Imo, Enugu, Ebonyi and Abia States, stated that the endorsement was after a critical appraisal of the Governor Ikpeazu's performance.
The communique was jointly signed by HRM Eze C.B.C. Ajuzieogu, President, Sir Onyeso Nwachukwu, Vice President, HRM Eze S.N. Njoku, Trustee, Hon. John O. Orji, Secretary and Hon. Chinyere Goddy and George-Maduagba the PublicRelations Officer of the group.
"After a critical appraisal of the performance of the present administration of Governor Okezie Ikpeazu, since inception in 2015 in the face of a litany of electoral litigations which finally came to an end on the 12th day of July 2017, the Aba House Owners Association gave the government of Governor Okezie Ikpeazu a pat on the back, and passed a vote of confidence on the administration by moving a motion for its continuity beyond 2019."
In another development, Governor Ikpeazu has expressed his displeasure over the continuing littering of streets, dumping of refuse into drainage-ways and construction of makeshift structures on top of gutters at Aba and Umuahia cities.
Speaking through his State Commissioner for Information, Chief John Okiyi Kalu, the governor advised those involved in the unsavoury practices to immediately desist from such acts and dismantle all illegal structures built on top of drainage-ways or face the wrath of the law.
"The Landlord Associations in the state, particularly at Aba, are by this notice called upon to ensure that gutters in front of houses on all the newly constructed roads are kept clean at all times as relevant Government agencies will soon commence arrest and prosecution of any landlord who defaults.
"Operatives of the Traffic and Indiscipline Management Agency of Abia state (TIMAAS) and other relevant agencies are also directed to fully deploy to the affected streets and roads to enforce relevant state laws. The task of keeping Abia State clean and maintaining a healthy environment is the responsibility of all", he concluded.