The real rich kids of Zimbabwe: incredible extravagant lives of Mugabe's children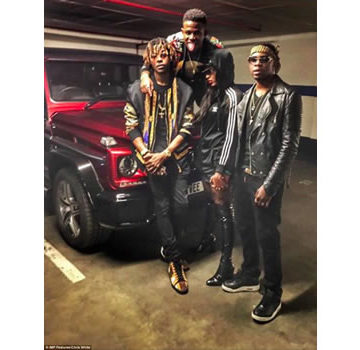 WELCOME to the world of Zimbabwe's wealthy young elite, where silver plated Rolls-Royces and private jets lined in gold are just the norm – and showing off your tens of millions are essentially social media viewing.
Even though the country is ranked one of the poorest on the planet, these politicians' off-springs and young entrepreneurs prove that there is still plenty of money floating around the country.
There are the sisters dubbed the 'Zimbabwean Kardashians' – flaunting their wealth around in the poverty-stricken nation, as well as Church preachers, or 'prophets' as they like to call themselves, showing off fancy cars and bundles of fifty dollar bills.
The pictures are all the more astonishing for since the economy has been decimated in the last two decades and inflation is currently running at 348 per cent.
While the military has taken over the country and are currently negotiating President Robert Mugabe's exit, these filthy rich youngsters are showcasing their wealth all over their social media.
Top of the list is Mugabe's notorious sons Robert Jr, 24, and Chatunga, 20. In September, the former bought two Rolls Royce.
ALSO READ: Zimbabwe's Robert Mugabe granted immunity, military says
While studying American Architecture in Dubai, Junior turned up in a black Batmobile, which he showcased to his 23,000 followers on Instagram, and showed off traveling in a private jet, with an interior decked out completely in gold.
His brother Chatunga regularly hits the African headlines as one of the continent's most outrageous spenders.
Two weeks ago, a video emerged of him pouring a bottle of Ace of Spades champagne over his diamond-encrusted Rolex watch. Chatunga tells his Instagram followers, with a less than subtle picture of his diamond-encrusted Rolex: '$60,000 on the wrist when your daddy run the whole country ya know'.
Claiming to live 'humbly', Michelle drives around in a $100,000 Victoria Beckham 2013 edition Land Rover while Elle had a $65,000 wedding and honeymoon in Seychelles, claiming: 'It was actually a low-cost wedding.'
Expensive fur, lion-skin handbags, and even gold designer high heels on top of Michelle's birthday cake – nothing is too extravagant. Vanessa's Instagram is @Mrsc_Blessed (15.5k followers) and Michelle's @wegettinmcmoney (17.9k followers).
Sidney Himbara Jr tops the lot for parading his wealth online, as his father Sidney Sr is one of the richest businessmen in the nation thanks to his chum Mugabe giving his dubious firm all the contracts to oversee Zimbabwe's infrastructure.
@Its_sirsid shows off his various holidays around the world in private jets, yachts and a steady stream of ridiculously expensive cars.