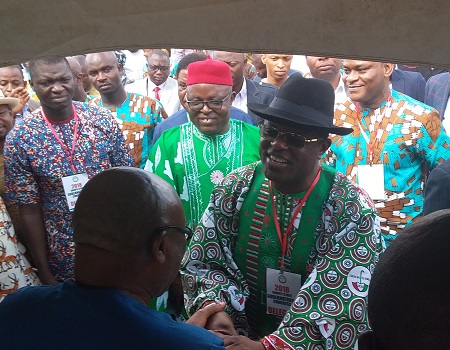 GOVERNOR David Umahi has emerged the candidate of the Peoples Democratic Party (PDP) for Ebonyi State governorship election come 2019, in the absence of any other contestants which made him go into the contest unopposed.
According to the Chairman of the panel, Senator Joy Emordi, who declared Governor Umahi winner and the candidate of PDP for Ebonyi governorship election, Governor Umahi pulled a total of 1988 votes.
Senator Emordi who described the exercise as very orderly, peaceful and organised, commended Governor Umahi for his developmental strides and expressed satisfaction with the outcome of the Congress.
ALSO READ: Osun election and the return of the dark days
"Despite the fact that Umahi was a sole aspirant for the position, a situation that would have been decided by voice votes,  the decision to go into normal election was based on the party's internal democracy to enable the Independent National Electoral Commission (INEC) monitor the proceedings, " she said.
Speaking shortly after he was declared the winner of the PDP primary election, Governor Umahi said he was humbled by the show of solidarity and commitment of the members of PDP and Ebonyi people in general which he said had enabled him to achieve monumental development in the state within three years in office.
Governor Umahi said the party flag given to him to run on its platform for the next four years as governor was a call to serve and do more work, adding that his first tenure had been memorable and witnessed unprecedented development while his second term will be a period to do more work and consolidate on already achieved development.
He thanked the leadership of the party at levels for providing a level playing field for all aspirants to contest in all the positions.