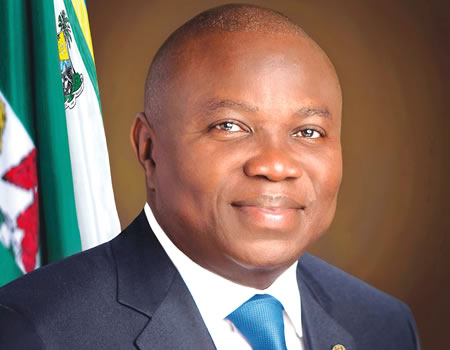 The Lagos State Public Works Corporation has embarked on what the agency described as strategic clearing of Lagos canals, especially, the major ones that serve as water outlets to the secondary drainages.
Tagged"Operation Remove and Cart Away", the exercise will not only ensure free-flow of water to the lagoon, but will also ensure that refuse cleared from the canal are promptly evacuated.
The move, according to the Special Adviser to Governor Akinwunmi Ambode on Public Works and Drainages, TemidayoErinle, is to ensure that issue of flood taking tolls on lives and property does not occur in Lagos State.
With the commencement of maintenance of all primary, secondary and tertiary channels under the Cleaner Lagos Initiative (CLI), reprieve has come to many black spots prone to flooding, such as Owode Elede along Ketu-Ikorodu route, Ajegunle, Bariga-Ilaje-Akoka axis, among others.
Speaking during the inspection tour of ongoing maintenance work at the drainage sites, Engr, Abiodun Dankuwo, representing the Special Adviser to Governor on Public Works and Drainages, stated that Egbe Idimu -IsheriOshun drainage channel, said the state government had put in place control measures that will checkmate flood which may arise as a result of torrential rain fall.
According to him, the Egbe Idimu drainage channel that links the Festac Canals is one of the longest drain which cuts across so many communities. "As such, we need to continue the clearing batch by batch as a result of various challenges such as the terrains, removal of encumbrances on the alignment created in the canals by the residents".
He listed other challenges to include the menace of street urchins, notoriously known as"area boys", who usually demand for ransom before the allow works to commence.
"Immediately they see our equipment landed on site, they will swarm on us, demanding for money as much as between N250,000-N300,000!
"We also encountered persistent dumping of refuse inside the canals, especially, residents in the high-density areas, as you people (reporters) can see", lamented Dankuwo, urging the public to desist from the disruptive habits.
Other areas visited include PakoAguda Drainage Channel in Surulere and Akin Olugbade collector drain at Victoria Island.
The Director reiterated that similar work is being replicated at other drainage channels across the state and that it is an all year round exercise.
He listed the areas undergoing dredging and cleaning to include Adetokunbo Ademola collector drain; 1004 collector drain – 1004 – Bishop Aboyade Cole to IGI; Idejo collector drain – Idejo – Adeola Odeku to OzumbaMbadiwe; Billy collector drain, Epe; Beecroft/Simpson collector drain Lagos Island; Jankara/Adeniji Adele/Dolphin Estate Channel, Lagos Island; Ashimowu/Bakere Channel, Mushin; LadipoTrapeZoidal channel, Mushin; Kehinde/Eta-oko collector drain, satellite Town, Amuwo-Odofin and dredging of Ketu-Alapere channel.
Other areas mentioned include dredging of 3.50km long Ketu-Alapere Drainage Channel, Kosofe LGA; 2.07km long Lakowe Drainage Channel, Lakowe, Ibeju Lekki; NTA 7 Tejuosho/Alaka Channel, Surulere; Osapa/Maiyegun Channel, Eti-Osa; Abeokuta/Egbe/Idimu Channel, Alimosho LGA; Ogombo Channel, Eti-Osa; Aguda/Coker Channel, Surulere and 615m long Kokoro Abu/Adeniran Ogunsanya Drainage Channel, Sabo, Ikorodu.
He also listed areas being cleaned up to include Akibo Savage Collector drain, Victoria Island; Church gate collector drain, Victoria Island; AgoroOdiyan collector drain Victoria Island; Old Ewu Road collector drain, Oshodi Isolo; 5.00km long Ladipo Collector Drain, FataiAtere, Mushin LGA; 1.98km long Alafia Collector Drain, AjeromiIfelodun LGA; 2.30km long 21 Road Collector Drain, Festac, AmuwoOdofin LGA; 820m long Amuto/Adeniji Adele Collector Drain, Lagos Island LGA; 235.0m long Thomas/Adeniji Adele Collector Drain, Lagos Island LGA; 850.00m long Oba Sefiu Adewale Drainage, Epe LGA and 950.0m long Billy Tertiary Drain, Epe LGA.
Emphasizing that Governor Akinwunmi Ambode's administration was mindful of the terrain and geographical location of Lagos State being very close to the coast which makes it relatively prone to flooding.
"That is why we embark on this strategic move that is in line with the global best practices, through the engagement of reputable and competent contractors for all year schedule maintenance of all primary, secondary and tertiary drainage channels in the five divisions of the State", he concluded.