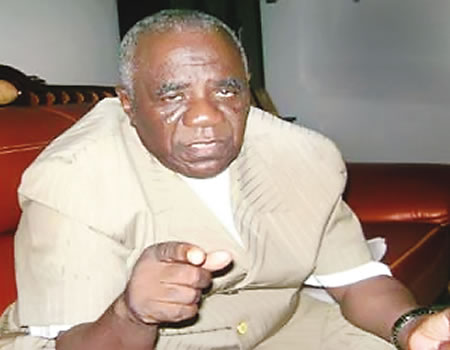 TWO term senator who represented Katsina North Senatorial District between 2003 and 2011 under the platform of the erstwhile ruling party, the Peoples Democratic Party (PDP), Senator Kanti Bello is dead.
Tribune Online findings revealed that the former Senate Chief Whip, died in the early hours of Tuesday in Abuja. His corpse has since been conveyed to his state for burial.
Kabir Faskari, a younger brother to former Katsina State Deputy Governor, Abdullahi Faskari, confirmed the death of the late chieftain of the All Progressives Congress in a statement.
"I am directed to inform everybody that we lost Senator Kanti Bello early hours of this morning (Tuesday) at Abuja. Burial arrangement will be announced later," he said.
Senator Bello, was a chieftain of the defunct Congress for Progressive Change, (CPC), one of the main opposition political parties that coalesced to form the APC.
Indication that he was not comfortable with the administration of President Muhammadu Buhari was revealed in his recent explosive interview with Sunday Tribune, published, last June.
Read also: Interview: North will shop for Buhari's replacement —Kanti Bello, Katsina APC chieftain
The late APC chieftain had took President Buhari administration to the cleaners, dismissing it as a colossal failure "I am a very practical person. I thought that a government, when it comes to Buhari, will be able to put smiles on the faces of Nigerians.
I know that there are some difficulties; I know that the price of oil has gone down. I know all that but the human expectations, of the ordinary people, the way the government works, I can say 90 per cent of Nigerians are disappointed. And the simple reason is this; when we voted for this government, we believed, it was not only corruption that we wanted it to stop.
''We also felt that ordinary people should have enough to eat; they should have work to do. We expected some of our factories, especially up North here, would be revitalised. But look at what is happening. I can tell you, no nation with 120 million people can live and be a great nation when it has to import the food it will eat and it has to import clothing. We have the land, a favourable climate. We have sunshine. So, there is no reason we should be importing food and there is no reason why we shouldn't be clothing ourselves. The reason is simple; there is no agenda to get things done.''
In his critique of the anti-corruption crusade of the present administration, he submitted that it was selective and further noted that only members of the main opposition party were main target.
Senator Kanti in same interview offered depth of his frustration with the present administration as he accused President Buhari of giving sensitive position to those he derided  as incompetent "No, I don't think there is much we can achieve. Look, two years into an administration is enough to make a landmark, because he has been looking for this job for so many years. Four times and he came in without an agenda, only to bring in some little boys who know nothing? Incompetent people were given appointments."
Paying tribute to the late politician, Senate President and chairman of national assembly, Abubakar Bukola Saraki described Senator Bello as a courageous legislator, "who was always guided by national interest and that of his community in discharging his legislative responsibilities.
"With the death of Senator Kanti Bello, the Senate and indeed the National Assembly has lost a reliable adviser whose wise counsel on national issues was always being sought by both the leadership and individual Senators.
"During his stay in the Senate, late Kanti Bello was known for his outspokenness, forthrightness and courage in telling truth to those in power without attaching any partisan, religious or tribal sentiments," Saraki stated.
The President of the Senate, according to the statement made available by his media aide, Yusuph Olaniyonu, Senator Saraki said that "Senator Bello's wise counsel, insight and forthrightness would be sorely missed by the Senate, his community and the entire country."
While sympathizing with the immediate family of the late Senator, his friends, constituents and the government and people of Katsina State, Saraki prayed that the Almighty Allah would grant him Aljannah Firdaus.