Labour Party (LP) standard-bearer, Peter Obi for the umpteenth time, is the most preferred candidate to win next month's presidential election, according to the new poll concluded Monday by Nigerians Decide, an independent research think-tank based in the United States of America.
Peter Obi, princely garnered 1,856,537 to lead his closest rivals Atiku Abubakar of the Peoples Democratic Party (PDP); Bola Tinubu of the All Progressives Congress (APC); and Rabiu Kwankwaso of the New Nigeria People's Party (NNPP).
Atiku had 1,539,568 votes, Tinubu garnered 1,486,401 and Kwankwaso polled 12,907 votes according to the latest poll released by Nigerians Decide.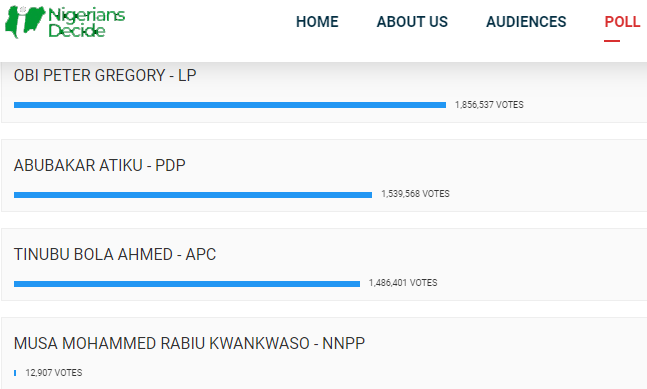 ALSO READ: Primate Ayodele sends stern warning to Obi, Atiku, Tinubu ahead February 25 poll
According to the US-based organisation, the online opinion poll was launched on December 6, 2022 and concluded today, Tuesday, January 31, 2023. The poll was launched to determine and predict the possible direction and outcome of the 2023 general elections in Nigeria.
"We are glad to launch www.nigeriansdecide.com, a United States of America-based non-profit and independent research think-tank. We conduct opinion polls on matters of public policy, like public engagement and participation in democratic exercise," the agency's project director, Rosalynn Carte had said in a statement obtained by our reporter.
TRIBUNE ONLINE gathered the poll had no connection or relationship or link with any politician or organisation interested in Nigerian politics, but purely for data collection.
---
---